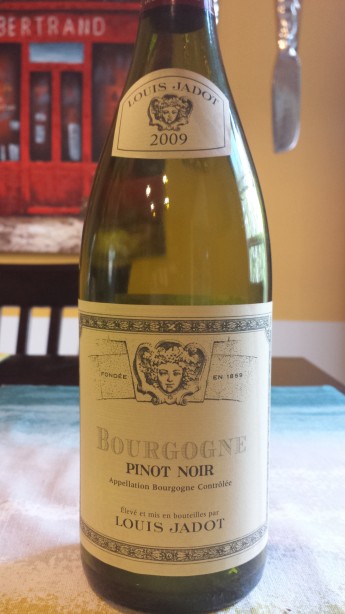 Varietal:  100% Pinot Noir
Region:  Burgundy, France
Cost:  $18
Winemaker's Notes:  This refined wine represents the best that Burgundy has to offer. Selected fruit from the Cote d'Or and the Cote Chalonnaise regions gives this wine depth and concentration. Partially aged in French oak casks for 9 months. Aromas of plums, raspberries, and cherries on the nose, fresh fruit in the mouth with balanced acidity and smooth tannins on the finish. Pair with roasted chicken, pork, or grilled fish.
My Review:  Last week I wrote about Ray Walker's book, The Road to Burgundy. I quite enjoyed the book, and as I have been trying to expand my experience with French wines, I picked up this bottle of Burgundy while at the store, in no small part thanks to Ray.
In the glass the wine was a nice ruby color of red, and on the nose I picked up aromas of raspberry and plum, both of which carried over into the mouth and were joined by cherry. The wine was smooth, balanced, and featured a spectacularly smooth finish. My wife and I didn't pair this with anything, choosing to just sip on this one afternoon while watching movies at home, but I'd really like to put this together with some pork tenderloin out of the oven and see how it pairs.
Sipping on this wine I can definitely understand why Ray became obsessed with Burgundy. The wine was both complex and simple all at once. When I was just sipping on it the flavors were obvious without having to beat me over the head, but when I really payed attention there was a subtle complexity to the way the flavors melded that was easy to appreciate.
I can definitely say that this won't be my last foray into the wines of Burgundy, but it was certainly a good step, and one I recommend picking up if you see it at your store.