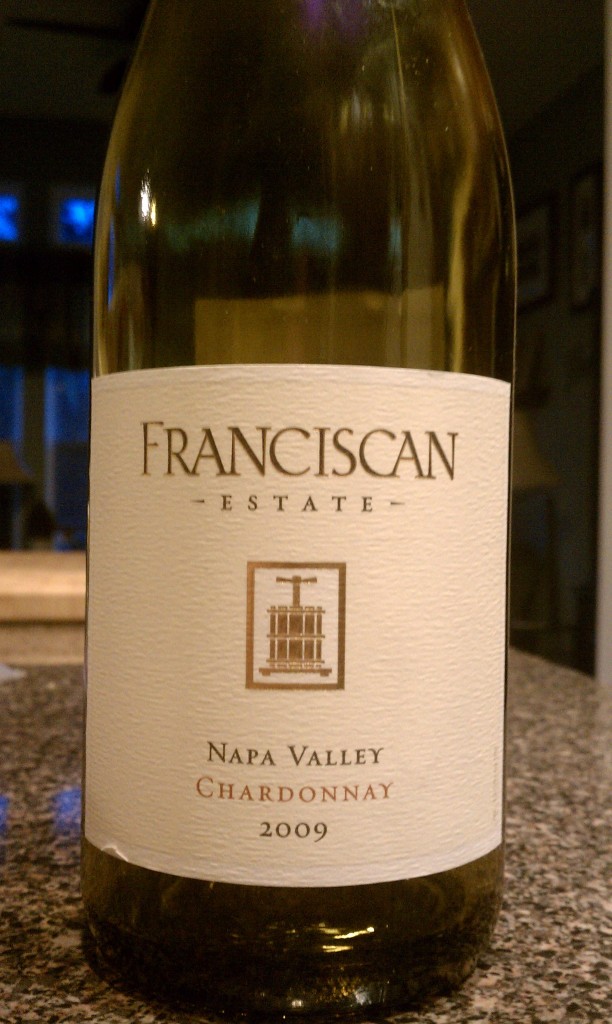 Varietal: 100% Chardonnay
Region: California – Napa Valley – USA
Cost: $18 (SRP)
Winemaker's Notes: Pale yellow in color with aromas of Fuji apple, ripe pear, citrus and white nectarine fruit layered with rich notes of cream, toasted hazelnut, and vanilla. In the mouth the wine is silky and round with flavors of pear, apple, citrus, and honey with notes of rich creme brulee, mineral, and cream lingering at the finish. Pairs well with chicken dishes, soft cheeses, and cream based pastas.
My Review: I can always tell when the warmer months are upon us because the samples I receive change from big bold reds to lighter wines such as Sauvignon Blanc and Chardonnay. It's my little way of knowing that winter will soon be over and that I can finally put away my heavy wool coat. The first of such samples to show up at my office this time was a 2009 Franciscan Estate Chardonnay.
As you know, picking out Chardonnay is a bit of a trial in my house as my wife doesn't like overly oaked Chardonnay. Fortunately I think that a) her tastes are evolving and she's getting more into oaked Chardonnay, and b) we're finding plenty of Chardonnay that's spent time in oak, but doesn't beat you over the head with the oak flavors. The 2009 Franciscan definitely falls into that category.
With a pale yellow-gold color in the glass, I wasn't too worried about there being too much oak for my wife, and while I got some of the aromas of vanilla that I typically associate with oaked Chardonnay, and make no mistake that this wine has spent time in oak (7 months in small French and American oak barrels, 20% new oak), the flavors of citrus at the front of the wine were nice and bright and refreshing before leading into a more rounded wine with notes of vanilla and creme brulee on the finish.
Paired with our dinner of seasoned and broiled chicken and roasted Yukon Gold potatoes, it was a great compliment to the food, with the citrus cutting through the initial bit of heat from the spices my wife used to season the chicken, but the creaminess of the finish on the wine complimenting the herbs on both the chicken and the potatoes.
This is definitely a wine I would recommend picking up for anybody that's looking for a more robust Chardonnay, but isn't looking for something that's lived its entire life in oak barrels. If you can't find it at your local store you can follow this link to have it shipped to you, or you can always go and visit the tasting room if you're on the West Coast (something I plan to do when I head out there later this year).