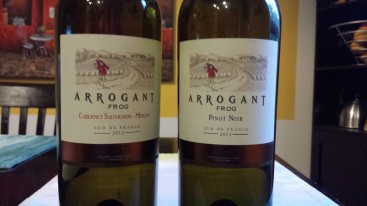 So since this post is waaaaaay overdue, I'm just going to go ahead and jump in and share my thoughts on the wines. If you want to read my thoughts about the tasting in general, and find a link to a video about it, check out my post about the Arrogant Frog White Wines.
Ok, here we go.
2013 Arrogant Frog Cabernet Sauvignon-Merlot
Varietal:Â  55% Cabernet Sauvignon; 45% Merlot
Region:Â  Languedoc, France
Winemaker's Notes:Â  Intense ruby color. Elegant and complex nose with aromas of ripe black fruits, black currant leaf combined with spicy notes such as liquorice and vanilla. A well-balanced wine with smooth tannins and a long finish. Best served with red meat, cheeses, and barbecue.
My Review:Â  I liked this wine. Like, a lot. I'll admit to shying away from some Cabernet from time to time since I've been caught by fruit-bombs way too often to not by a little gun shy. That being said, this wine had none of those problems. Sure, there was fruit, but there was also spice, and a nice long finish that kept me coming back for more.
Paired with a dinner that included a pan-cooked steak, the wine was amazing, complementing the red meat without overwhelming it or being overwhelmed by it. I honestly can't express how much I enjoyed this wine, and how much I wanted to just sit out on my deck with another glass of it and a nice pipe and enjoy the evening. Sadly that didn't happen, but believe me, another bottle of this and it will.
2013 Arrogant Frog Pinot Noir
Varietal:Â  100% Pinot Noir
Region:Â  Languedoc, France
Winemaker's Notes:Â  Bright and lovely light garnet-red colour. Very elegant nose with a notes of red berries, strawberry, cherry, soft spices aromas with a hint of vanilla. Medium-bodied wine, with ripe tannins and acidity which testify his capability to age. It develops very delicate aromas and a long lasting finish. To be served with grilled meat: lamb, veal or pork, game and soft /medium cheese.
My Review:Â  Wow. Just wow. So remember above when I raved about the Cabernet-Merlot? Don't get me wrong, that was a great wine, one I really enjoyed, but this Pinot….just….wow. Ok, enough superlatives.
I was impressed with the light garnet color. Light came through when the wine was held up, showing off a gorgeous color. On the nose I found aromas of strawberry to be most prominent, but it was in the mouth that the wine really shined for me. Smooth, with tart notes of cherry tempered with some spice, the wine had a great finish that made it incredibly easy to sip on.
I also paired this bottle with steak (different week of trying it, different type of steak), and I'll admit that at my first sip of the wine I feared I had chosen poorly, thinking the steak would overwhelm the wine. I was wrong. The tart notes shined through the grilled meat impressively, providing a nice counter-note while not being a shocking departure.
I really enjoyed the 2013 Pinot Noir because of how utterly sippable it is. Whether with food or just by itself, this is a great wine to have in the glass, and one I'll be on the look out for.