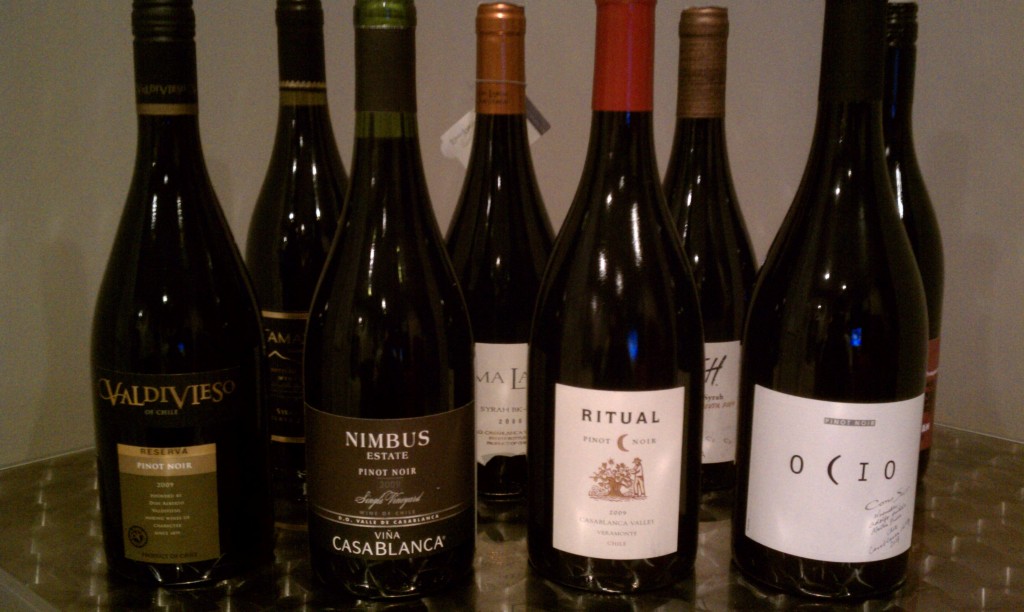 It was that time again, this past Wednesday, that time when I get to taste some great wines from Chile along with some of my fellow wine bloggers, all while getting to interact with the winemaker's down in Chile. It's easily one of the highlights of writing this site, and something that I look forward to well in advance of each tasting.
This time around the tasting featured Pinot Noir and Syrah. As you can probably guess I was somewhat beyond excited when I found out that I was going to get to sample Chilean Pinot Noir, and add in the Syrah, and the tasting date couldn't arrive fast enough for my taste. It should be noted, before I start talking about the actual wines, that this is the fourth Wines of Chile that I have had the fortune to participate in, and it may actually have been the best so far, which is saying something. Alright, on to the wines.
2009 Valdivieso Reserve Pinor Noir
Casablanca Valley
100% Pinot Noir with a SRP of $17, the Valdivieseo was light in the glass and on the palate. With tart flavors of cherry and unripened strawberries. It was probably the lightest wine we would drink all night, and was a great way to start off the tasting.
2009 Vina Casablanca Nimbus Estate Pinot Noir
Casablanca Valley
A darker wine than the Valdivieso that mixed dark earthy flavors and aromas with a nice brightness of cherry and nice long finish. The Nimbus is a good value with an SRP of $20.
2009 Veramonte Ritual Pinot Noir
Casablanca Valley
Bright ruby red in color with aromas of black cherry. In the mouth the wine was fruity with a green, herby finish. I liked the Ritual better than the first two Pinot Noirs, and it may have been the best value of the night with an SRP of $20 for a great wine.
2008 Cono Sur Ocio Pinot Noir
Casablanca Valley
Great fruit on the nose and smooth on the palate. Med-dark in color with a hint of purple streaking through the wine. Black cherry and berry with a touch of strawberry and spice on the finish. A SRP of $65 will turn some people off, and I usually don't recommend wines at that price because of the cost, but this is not one of those times. If you have the extra cash to spend and are looking to indulge in an expensive bottle of wine, the 2008 Cono Sur Ocio is a good one to splurge on.
2009 Tamaya Syrah Reserva
Limari Valley
97% Syrah and 3%Viognier with an SRP of $17-$18. I got vanilla on the nose and spice on the finish, with a hint of floral in the middle that I attributed to the Viognier. This was a good start to the Syrah portion of the tasting.
2006 Loma Larga Syrah
Casablanca Valley
Deep and purple in the glass with a jammy, juicy feel in the mouth full of currants. On the finish I got a footy/Robittusen flavor on the finish that faded as the wine opened up more, but was a bit surprising at first. A heavier wine than the previous offerings, the 2006 Loma Larga has an SRP of $29.
2009 Undurraga T.H. Syrah
Leyda Valley
Lots of jammy dark fruit such as raspberry, this wine made me want a steak and a cigar and is easily one I would buy with an SRP of $25.
2009 Hacienda Araucan Reserva Syrah
Lolol Valley
Aromas of black cherry with flavors of cherry, eucalyptus/Robittusen and a musty, bittersweet chocolate finish. A great value at $13.
This was another great tasting put together by Wines of Chile and The Thomas Collective, both of whom I'd like to thank for including me in another of their tastings. I look forward to doing another of these in the future and thanks to all my friends that came over and helped me finish the wine (waste not want not).