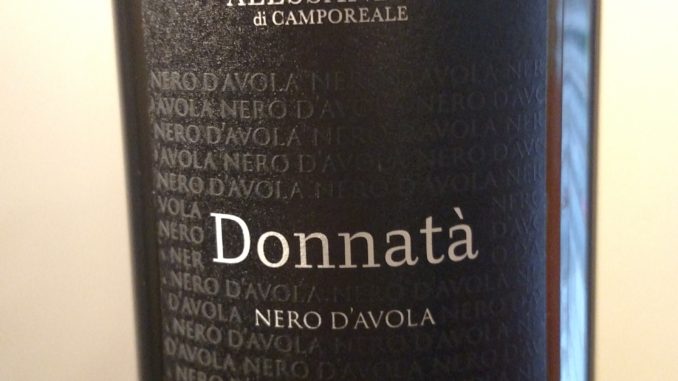 Variety:Â 100% Nero d'Avola
Region: DOC Sicilia; Italy
Cost: ~$19
Winemaker's Notes:Â (Translated from Italian)Â Deep ruby red with bright and luminous reflections. It is a wine characterized by an articulated aromatic texture of alternating intact and fragrant notes of plum, raspberry, blackberry, cherry, nutmeg, and chocolate. Intense, vigorous, and well structured, it is soft, pulsating, and very pleasant to drink.
My Review: Been a while since I've shared my thoughts on a wine here. Work and moving will do that to you. Either way, I'm back with a tasty wine from Italy – the 2014 Alessandro di Camporeale Donnata Nero d'Avola. Let's dive right in.
In the glass the wine was a deep, dark red with slashes of violet that really only became visible when I held it up to the light. On the nose I picked up notes of raspberry and chocolate with just a hint of rose petals as the wine opened up a bit more.
In the mouth the wine was medium bodied, with the raspberry and the chocolate from the nose being joined by some tart cherry on the back of the wine. A clean finish with just a bit of linger makes the wine memorable, but not noteworthy, which is by no means a bad thing in a sub-$20 wine that I enjoyed on a Monday night with my wife.
We paired the wine with a recipe we'd made from our Home Chef before – Skinny Chicken Mozzarella. The wine was a great pairing for the wine, the tart cherry flavors matching the tomato sauce of the dish wonderfully, and the basil in the dish pulling out darker, earthier notes in the wine that weren't really all that present on first sip.
I've made no secret of my affection for Italian wine on this blog, and while Chianti/Sangiovese was what truly got me into wine, Nero d'Avola has been becoming a go-to option for me of late. While I don't think the 2014 Alessandro di Camporeale Donnata Nero d'Avola is revolutionary, it's a solid, quality representation of the grape and the region, and a great value buy that won't disappoint or make you feel like you've wasted your dollar.
Editor's Notes: I received this wine as a free sample for review.