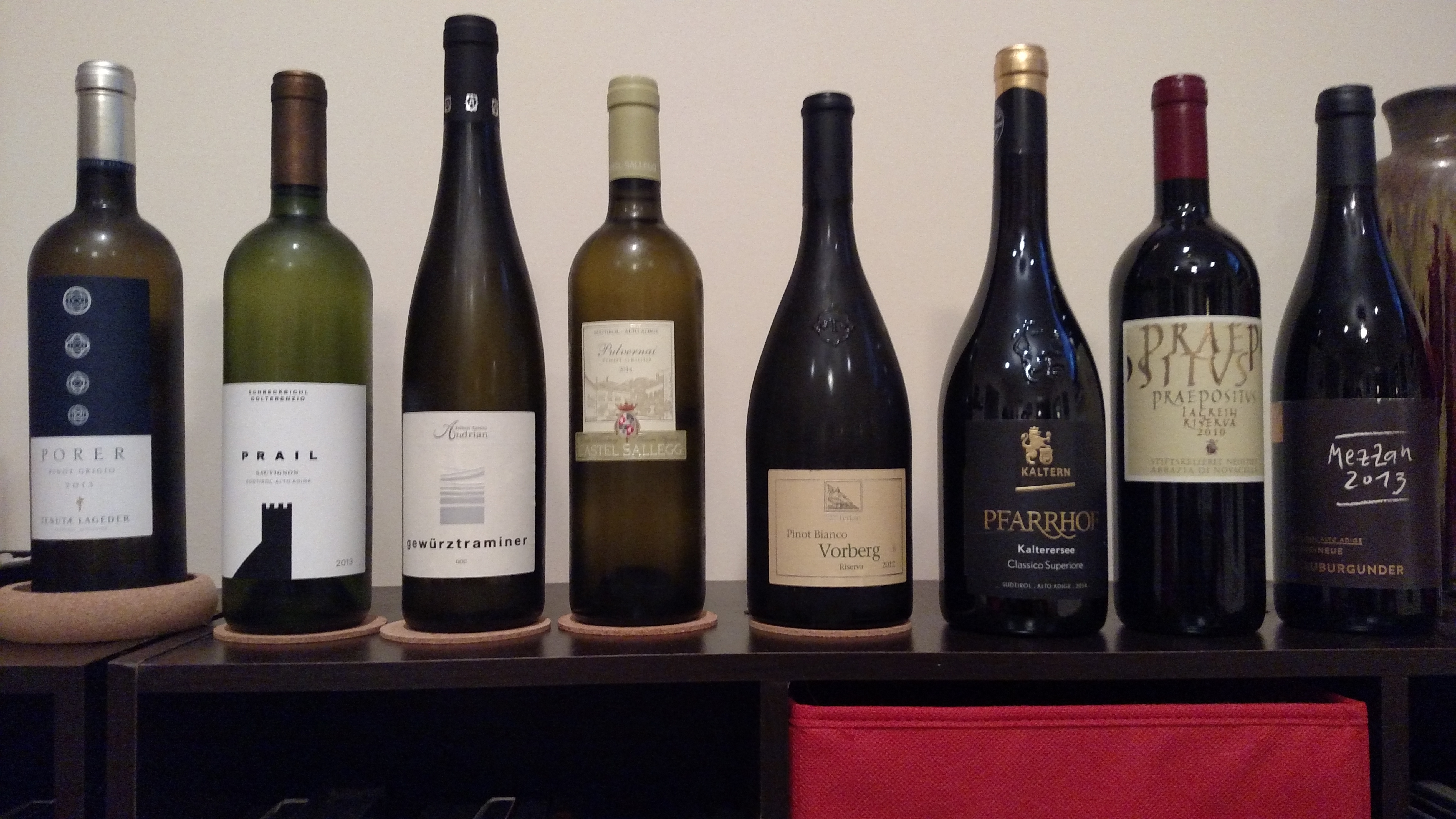 So a while back I had the chance to participate in a Twitter tasting lead by Karen MacNeil featuring several wines from Napa. This past week I got to do it again, this time with wines from the Alto Adige region of Italy.
First a little lesson. Alto Adige is located in Northeast Italy, and produces a variety of grapes, including several that are indigenous to the region, such as Schiava, Lagrein, and Gewurztraminer. 60% of their production is white wine, with the other 40% being red. If you want to learn more about the region as a whole, I recommend checking out the Alto Adige Wine website – it's really quite nice.
So, on to the wines. We tasted 8 total wines – 5 white and 3 red, spanning grapes that were known to me, as well as a few that were new.
2012 Castel Sallec Pulverai Pinot Grigio -Â $22
The first wine of the night, it was light, almost clear in the glass. Notes of apricots, lime, and fine mineralization. Not only was it light in the glass, it was light in the mouth, so pair accordingly – light dishes, seafood, salads, or antipasta.
2013 Alois Lageder Porer Pinot Grigio -Â $25-26
Very aromatic, with notes of oak spice, petrol, and orange peel. A touch of creaminess to the mouth feel of the wine, but without losing some of the crisp citrus notes. Pair with starters, seafood, white, and poultry. Of the two Pinot Grigios, this is definitely more of a "food wine".
2012 Vorberg Pinot Bianco -Â $35
It's been a long time since I've had a Pinot Bianco, so I was kinda looking forward to this one. Straw yellow in the glass, with aromas of pear and honeydew melon. In the mouth the wine showed salty, briny notes that made me want to pop open some oysters and suck them down, which is definitely the pairing I would recommend. If oysters aren't your speed, hard cheeses like pecorino or a mature Parmesan are good.
2013 PRAIL Sauvignon -Â $23
We're big Sauvignon Blanc drinkers in my house, so my wife was looking forward to this one. Passion fruit, Guava, and melon were the big notes, with a slight flinty aftertaste. The wine did show some notes of "green", but it was nothing compared to what you'd find in many New Zealand Sauvignon Blancs. This was a definite departure from the SB that I'm used to, but I very much enjoyed it, and it's definitely one I would pay attention to if you're looking for a good seafood pairing…or just something to sip on.
2014 Andrian Gewurztraminer -Â $23
I'll admit, before reading up a bit on the region, I was surprised to see Gewurztraminer on the tasting list, as it's a grape I most associate with Germany for Europe. Turns out it's indigenous to the region, but has only recently been making something of a come back. This wine showed floral and honey notes on the nose, and I got white pepper and ginger in the mouth, with a bit of slate/flint notes on the finish. It's sweet without being syrupy, but it's still very much a food wine to me – we paired it with a spicy dish a few days later and while I wouldn't say it was my favorite of the night, I definitely warmed to it with the pairing.
2014 Pfarrhof Lago di Caldaro Classico Superiore DOC -Â $15
We jump into the reds with a wine made from a pair of grapes native to Alto Adige. The Pfarrhof is 95% Schiava and 5% Lagrein. Fruit dominated the nose, with strawberry jumping out at me the most. In the mouth the wine was light, with the strawberry continuing throughout, and a slightly tart, lingering finish to the wine. Since it's so light, this is a great red to start your evening with, and it will pair well with lighter meats and mild cheeses.
2013 Erste+Neue Mezzan -Â $20
The grape was listed a couple of different ways on this wine: Pinot Nero and Blauburgunder. Either way, it's Pinot Noir. A nice purple in the glass, the wine showed aromas of spice and black cherries, with flavors of cherry that touched into a cherry cola flavor. Pair this with roasted or grilled meat. I really liked this wine (I'm a big fan of Pinot Noir), and at $20 it's an amazing value.
2011 Praepositus Lagrein Riserva -Â $34
Our final wine of the night, and it was a doozy. Made from 100% Lagrein grapes, the wine showed tart, dark fruit notes that gradually gave way to licorice as well. This is a big wine, and definitely needs to be decanted. It should be paired with meat or steak, which is exactly what my wife and I ended up doing – throwing it in a decanter and trying it with a pot roast we had several days later. The hearty meat flavors were a nice balance to the wine, and it's definitely a pairing I recommend.
Wrapping Up
My thanks to Karen MacNeil and all of the winemakers that provided wines. I've always held a spot in my heart for Italian wine since it was my introduction to the world, and tastings like this just reaffirm that. Check out the Alto Adige website to learn more, and look for their wines in your local store – I don't think you'll be disappointed.