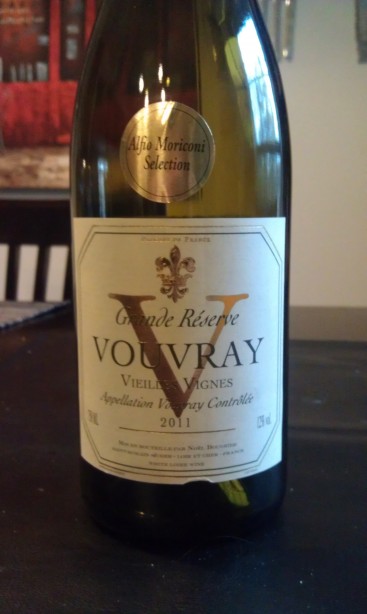 Varietal:  Chenin Blanc
Region:  Vouvray, Loire, France
Cost:  $15
Winemaker's Notes:  This elegant fresh white is filled with aromas of stone fruit and peach blossoms, which carry through the ripe, fruity palate, marrying with hints of honey and apricots. An amazing Chenin Blanc from its traditional home, it pairs beautifully with fresh fruit.
My Review:  It's no secret by this point that I've been trying to fold more French wines into my wine experiences. A few months ago when I was picking out some wines to try, I decided to grab the Vouvray mostly because it was something that I had never tried before. Oh, I'd tried Vouvray style wines in the past, but that's like saying I've tried Bordeaux style wines – an homage is not the same as the real thing.
On the nose I picked up the peach blossoms mostly, but that may also have to do with my lack of experience with stone fruit and how they smell. The palate brought honey and apricot and a subtle sweetness that I wasn't expecting. Mind you I'm not complaining, and clearly the Vouvray-style wines I've had in the past were just that, in the style but not really there, as they did not have this note.
My wife and I just sipped on the wine on a relaxing Saturday at home, and the wine would have been a good pairing on a warmer day on our deck. The subtle sweetness of the wine really made me want to pair it with something spicy, be that Asian cuisine or some kind of hummus with red peppers in it.
The 2011 Bougrier "V" Vouvray Grande Reserve was much different than I was expecting, and that's not necessarily a bad thing. I'd definitely like to explore more wines in this style to see if they're all like this, and to pair them with some food to see how they perform. I would recommend giving the  "V" a try if Vouvray is something you've been wanting to try, for the price there's a low threshold to find out if it's something you like.