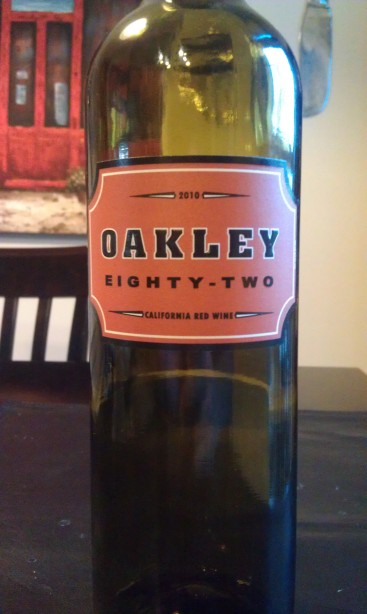 Vareitals: Â 30% Syrah; 27% Merlot; 15% Barbera; 7% Zinfandel; 5% Alicante Bouschet; 4% Cabernet Franc; 12% Mixed Red
Region: Â California – USA
Cost: Â $11 (SRP)
Winemaker's Notes: Â Bright but full-bodied, Oakley 82 Red combines jammy boysenberry with mild pepper flavors and a delicate green olive note. Luscious fruit is complemented by smooth tannins that ensure the flavors will age well into the future. Darker notes of Syrah meld with smooth Merlot, spicy Zinfandel, and bold Cabernet Franc. Italian and French varietals, Barbera and Alicante Bouschet, round out this sweet red blend. This easy-drinking wine pairs well with BBQ ribs, hamburgers, or pizza.
My Review: Â I'm often wary of red blends that pass the 5 grape limit, as I worry that no one varietal will be able to make itself known and all you'll really get is "generic red wine". That's not to say there isn't a place for said wine, but only that it's hard for me to write a review where I can say "yes, this grape really jumped out at me and made itself known in the blend." This is one of those reviews.
Now, before I continue I should preface myself by saying I didn't hate this wine – I just wasn't blown away by it. That's not a bad thing, there are plenty of wines that I drink on a regular basis that don't blow me away but are serviceable table wines for a Wednesday night dinner that's quickly thrown together. This wine fits into that category.
The wine itself was dark in the glass, and on the nose I mostly got a generic "dark red fruit" note. There was no denying that there was wine in my glass, but I couldn't have told you what that wine was. In the mouth the wine was jammy without being too jammy, with subtle pepper notes that came out the more the wine opened up and a soft, hint of sweetness on the end. Normally I steer clear of red wines with a sweeter note, but in this case, and at least with the food we paired it with, it worked.
We paired the wine with some pizza, though I think the recommended hamburgers and ribs would have also been good pairings, and thanks to the pizza being fairly saucy, the subtle sweetness at the end of the wine actually did a good job of cutting some of the extra acid from the tomato sauce. That being said, I don't know that I'd want to sit down and drink a bottle of this by itself without something to pair it with.
I'm honestly a bit on the fence about this wine because while it did a fair enough job for what I wanted – a simple red wine to drink with some pizza, it didn't wow me, and while the price isn't terrible, I also know that I can get wines that will impress me more for about the same price. I didn't hate it, but I don't know that I'd pick up another bottle off the shelf either.