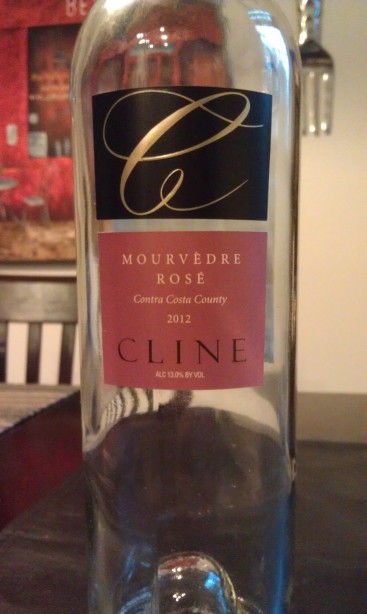 Varietal: Â Mourvedre
Region: Â Contra Costa County, California – USA
Cost: Â $12 (SRP)
Winemaker's Notes: Â In the wonderful tradition of rose's found in Portugal, Spain, Italy, and France, this wine is perfect on its own, well-chilled. It is crisp and refreshing, not overly sweet, and has hints of cherry and plum. It makes an excellent chilled accompaniment for spicy foods, chicken Provencal, salmon or Teriyaki.
My Review:Â  So after 2 bottles of Cline (the Viognier and the Marsanne Roussanne), I was interested to try the Mourvedre Rose' from Cline to see where it fell when compared with the other two. After pairing it with some spicy shrimp and quinoa for dinner I can say that it falls closer to the Viognier for me than the Marsanne Roussanne.
In the glass the wine was a medium dark pink color with slashes of orange. On the nose I picked up strawberry which carried through less noticeably to the mouth, which featured more cherry than strawberry. Paired with our dinner it was a nice counter balance to the heat of the shrimp, offering just enough sweetness to cut the heat without being too sweet.
The wine had a nice crispness with just a bit of juiciness, making it a good pick for pairing with a hot day on the deck as well as a variety of foods. The versatility of this wine definitely makes it more appealing. While the Viognier is still my favorite of the Clines so far (there's one left), I did like this one better than the Marsanne Roussanne and would definitely try it again since it was such a good value.
Editor's Note: Â I received this wine as a free sample for review.