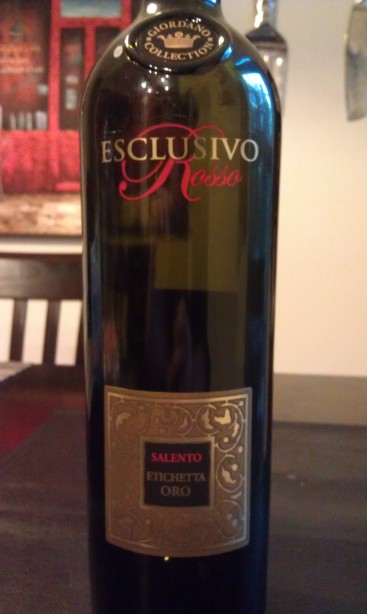 Varietal: Â Sangiovese
Region: Â Apulia, Italy
Cost: Â $13 (SRP)
Winemaker's Notes:  The color is a deep ruby red showing gleams of garnet. The nose is intriguing with rich fruit notes  as well as a hint of vanilla and leather. To the taste it is full-bodied with firm tannins, and a concentrated ripe red fruit flavor with a hint of spice on the finish. The wine is perfect with meat or game dishes especially if they are served with rich gravies and sauces.
My Review: Â Another evening on my own, another steak to pair with some red wine. I'm not ashamed of myself. Besides, since the notes on this wine said that it paired well with red meat, it seemed logical to put that to the test. For what it's worth, I agree with their pairing assessment.
The Essclusivo Etichetta Oro Salento was lighter colored in the glass than I was expecting, and it actually let in a good bit of light when held up. On the nose I picked up bright fruit notes with a hint of spice. In the mouth the flavors were surprisingly bright with notes of vanilla and leather as advertised, though the wine rounded out as it had more time to open up in the glass.
Paired with steak the wine was actually really good, being a great value as a better than average steak wine for a good price. In fact, I found that I preferred the wine with food than without it, though that changed slightly as the wine opened up. If you're in the market for an affordable steak wine this is certainly one worth checking out, but I do recommend pairing it with food, since I found it more enjoyable that way.
Editor's Note: Â I received this wine as a free sample for review