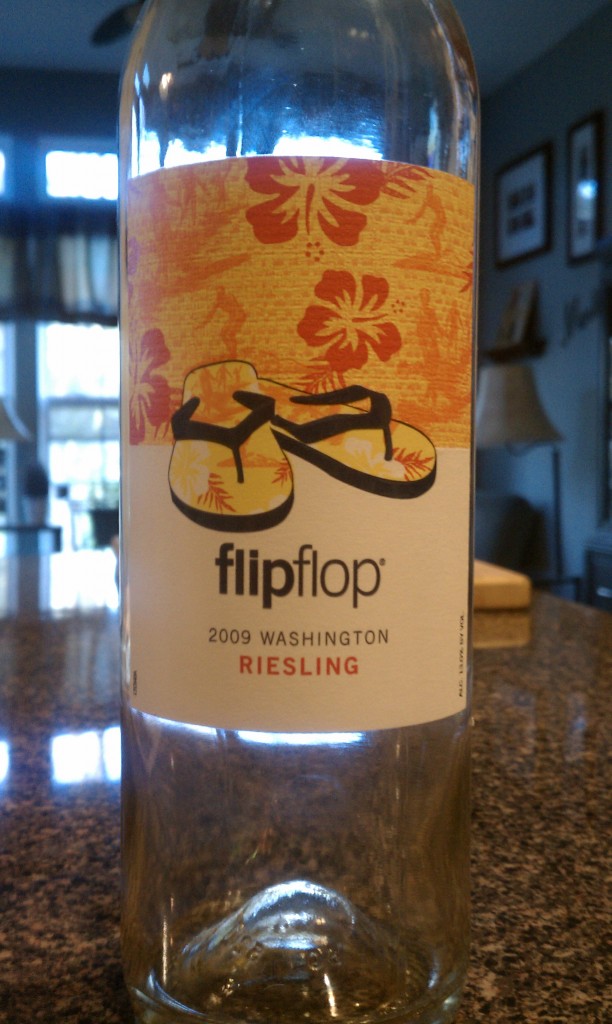 Varietal: 100% Riesling
Region: Washington – USA
Cost: $7 (SRP)
Winemaker's Notes: A medium-bodied, complex Riesling with peach, apricot, and melon which leads to a satisfying, smooth finish. Tropical notes and sweet aromas in a wine that pairs well with tofu stir-fry, shredded pork tacos, and sake sashimi.
My Review: Wow, I have taken my time getting to the 2009 FlipFlop Riesling. It's not even that I didn't want to give it a try, as I did enjoy the other two wines I tried from FlipFlop, but that I wanted to make sure I had a meal that would be a good pairing for the Riesling. Finally, yesterday I got around to doing just that.
After stopping at Mekong (a great place in Richmond, VA for Vietnamese food – if you live in Richmond and haven't been there you're missing out) to pick up some dinner, my wife and I dug in and opened up the wine. In the glass the wine was very light, nearly clear, with a subtle aroma of generic tropical fruit – nothing I wasn't really expecting. What I wasn't expecting was the taste.
My first sip of the wine was after taking a bite of my dinner, and I have to admit that I did a double-take at the bottle to make sure I was in fact drinking Riesling. I say this because the combination of a dinner with just a hint of spice and the Riesling helped to hide the sweetness of the wine. There was a second where I really thought I was drinking a Pinot Grigio. I loved it.
Once I was done with dinner and still sipping at the wine, I started getting a very subtle sweet note on the finish, but even that was refreshing and was a good counter to the bit of acid on the front end. If I was looking for a table wine to serve on a hot day on the deck, this would certainly be on my list of wines to consider.
As always, I recommend picking up a bottle of FlipFlop wines if for no other reason than the charitable donations that they make with each purchase, so if you're looking for a bottle of wine and a good cause, they're a good place to spend your dollar.