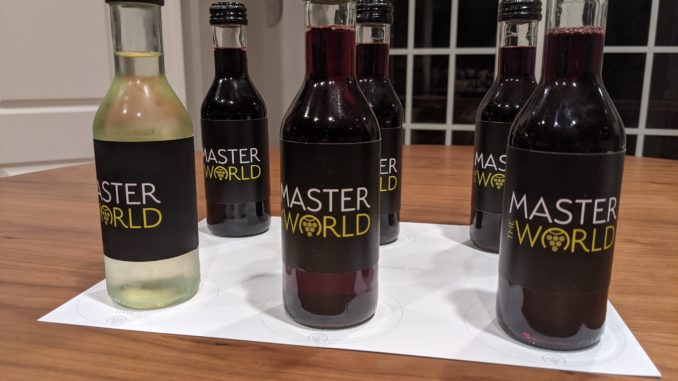 So I've done a lot of tastings over the years, and a lot of them involved Wines of Chile, but doing a blind tasting of six wines from Chile was definitely a new experience.
I'm not going to spend much time talking about the wines themselves – the tasting format involved small samples that I wasn't pairing with food or able to spend a day with. I am, however, going to focus on the overall experience, and how I did on each wine we tasted (spoiler: better than I thought I would).
Before jumping into the wines, I will say that no matter how much time you've spent tasting, and I'm by no means a professional – this is a hobby on the side from my real job as a content strategist for a software company – doing a blind tasting is a humbling experience.
2019 Leyda Single Vineyard Garuma Sauvignon Blanc
Sensory Score: 2/5
Deduction Score: 3/5
My wife and I picked this as a Sauvignon Blanc, so I was pretty proud of nailing the first wine. This was a good representation of Chilean Sauvignon Blanc, which in turn made it easy to pick out, with lots of notes of citrus and a high acid content.
I kinda thought my sensory score would be higher, but picking the correct grape was a win as far as I was concerned.
2016 Amayna Pinot Noir
Sensory Score: 1/5
Deduction Score: 4/5
Started off strong with picking this one as a Pinot Noir. I got notes of vanilla, cola, cherry, and spice. Compared to the professionals that did the tasting and that we were being compared to I definitely pooched that part, but we pretty well nailed the grape and vintage, so I'm taking the victory lap. Also, this was one of my favorites of the tasting.
2017 Santa Ema Reserva Merlot
Sensory Score: 1/5
Deduction Score: 4/5
Here's where things started to come off the rails a bit for me. This was a 100% Merlot wine, but during the blind tasting portion I guessed Cabernet Sauvignon. I got lots of dark fruit and chocolate notes, with a hint of mint and eucalyptus.
2013 Odfjell Aliara
Sensory Score: 1/5
Deduction Score: 3/5
This wine is a blend of 65% Carignan, 20% Syrah, 15% Malbec. It's also 100% organic. I picked Petite Sirah for the wine when doing the blind tasting. I think it was the bitter chocolate notes I got that pushed me in that direction. Either way, I was a lot wrong on my pick.
2017 Concha y Toro Marques de Casa Concha Cabernet Sauvignon
Sensory Score: 1/5
Deduction Score: 4/5
The wine is a blend of 85% Cabernet Sauvignon, 8% Syrah, 4% Cabernet Franc, 1% Malbec, 1% Merlot, and 1% Petit Verdot. My wife and I picked Malbec as the primary grape when we did the blind tasting. I think the ripe fruits on the nose and flavors of cherry, currants, and blackberry are what pushed me into that line of thought.
2017 Vina San Pedro Sideral
Sensory Score: 2/5
Deduction Score: 4/5
A blend of 81% Cabernet Sauvignon, 12% Syrah, 3% Petit Verdot, 2% Cabernet Franc, and 2% Carmenere. We guessed Cabernet Franc during the blind tasting, which I attribute to the notes of cedar and light cherry that I got, something my brain associates with Cab Franc thanks to all the years we lived and drank in Virginia.
The Holidays are Nearly Here
Like I said, the blind tasting was a humbling experience. That being said, it was also a lot of fun. The holidays are just around the corner, and if you're looking for a gift for the wine-lover in your life (and maybe a fun evening as well), grabbing one of the kits at Master the World is a good way to achieve both.
Also, if you want to embarrass the wine wine person in your life that's always talking about the wines they drink and how refined their palate is, getting one of these kits is a great way to do that.
Or, if you want to find some new wines to enjoy without focusing on labels and varieties and just on the wine, this is a great way to pick out some new things you like by picking out the wine, not what it says on the label and being influenced by what you're supposed to think by jack-asses like me.
Whatever your motivation, this was a fun tasting, and one I recommend that others try out, be you a seasoned professional or someone that's just trying to experience some new wines.
Editor's note: I received this kit as a free sample to attend a wine webinar. This is not a paid advertisement for Master the World Wines.