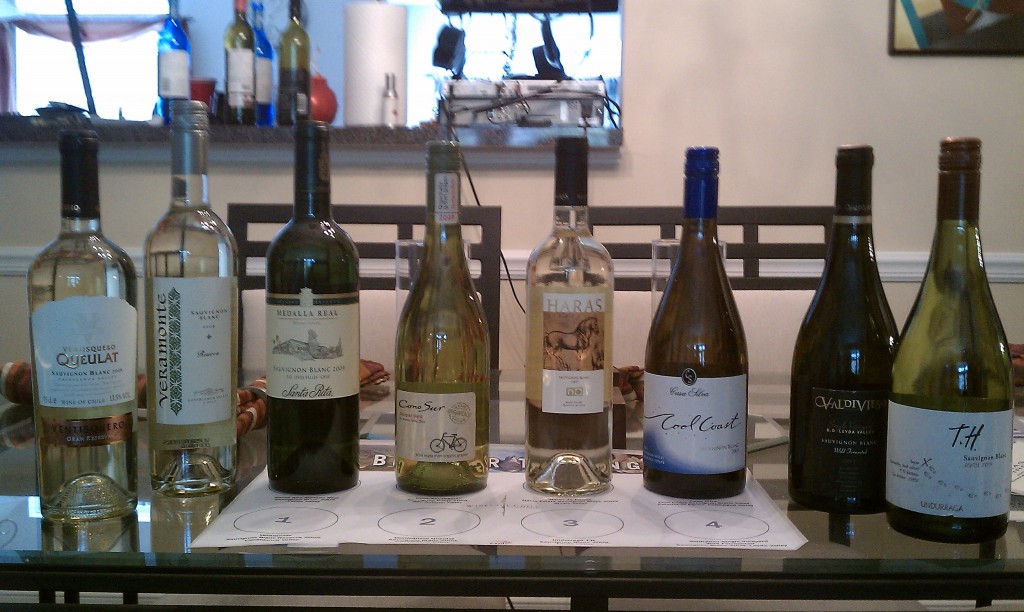 So this past Wednesday I was fortunate enough to get to participate in a virtual blogger tasting of 8 Chilean Sauvignon Blancs. Â Myself and several other bloggers were all sent tasting kits that included wine that we would taste on the 12th while interacting with the wine makers via webcam and chatroom.
Since they sent us 8 bottles of wine, I did the only wise thing, and invited several friends over to help me taste all the wines and to get their opinions on them as well. Â If you're in the Richmond area you can follow them on twitter at: Â @ptmartinez ; @melrv ; @jkennett ; @akennett ; and @knownhuman.
All of the wines we tasted were the 2009 vintage and all were 100% Sauvignon Blanc. Â Our first wine was the Veramonte Sauvignon Blanc from the Casablanca Valley (SRP $10.99). Â It featured a good bit of citrus with a bit of an effervescent, tart finish, while remaining crisp. Â Nice and light this would be a great deck wine and was the favorite of my wife's friend Marisa (she's not on Twitter or I'd share her login).
Next up was the Ventisquero Sauvignon Blanc, also from the Casablanca Valley (SRP $17.00). Â With a bit of pepper on both the nose and the palate – there was debate if it was bell pepper or jalepeno – I found it more enjoyable than the first wine, only because I could see pairing it with food better.
Our third wine of the evening was the Undurraga T.H. Sauvignon Blanc from the Leyda Valley (SRP $15.99 – 16.99). Â A combination of grapefruit and melon on the nose lead into apple flavors, with us debating the type (I settled on Granny Smith, others were saying Gala and Fuji).
Our forth wine was actually the least favorite of the entire group. Â The Valdivieso Sauvignon Blanc from the Leyda Valley (SRP $21.99) had a smell that my friend Pedro best described as "new leather shoe" which wouldn't have been bad in a robust red wine, but was fairly off-putting in a white, particularly a Sauvignon Blanc. Â With a flavor that reminded us of sherry more than anything, we weren't a huge fan of this one. (Author's note: Â I've been contacted about this wine as there was some bottle variation amongst the bloggers on this one. Â We're all being sent new bottles to review and I'll write up a separate review of this wine to either confirm or refute my thoughts here after it arrives.)
The fifth wine of the night was the Santa Rita Medalla Real Sauvignon Blanc from the Leyda Valley (SRP $19.99). Â Light in color the nose reminded me of celery more than anything, though others said they got tomato vine for the nose. Â With a flavor of grapefruit rind it was a step up from the previous wine, but still not a favorite.
The sixth wine was the Cono Sur Sauvignon Blanc from the San Antonio Valley (SRP $13.00). Â An organic wine, this one also featured what I called a celery nose, but it was much more subtle and quickly lead into a good citrus flavor that was refreshing. Â This was the hands down favorite of the group and was quickly gone after the tasting was over.
Our seventh wine was the Haras de Pirque Sauvignon Blanc from the Maipo Valley (SRP $12.00). Â It reminded me of the first wine we sampled, but not quite as enjoyable, with grapefruit and other citrus flavors.
Finally, our eighth wine of the night was the Casa Silva Cool Coast Sauvignon Blanc from the Colchagua Valley (SRP $22.99). Â Crisp with a nose of bell pepper and grapefruit flavors and a hint of effervescence. Â My only complaint with this wine was that we all agreed it was a bit overpriced.
I want to give a special thanks to Wines of Chile for including not just myself, but my friends, and other wine bloggers in this event. Â I look forward to the next one, and if any of my readers have questions about any of these wines, feel free to ask me – I have packets of information on each one that I'm happy to share.