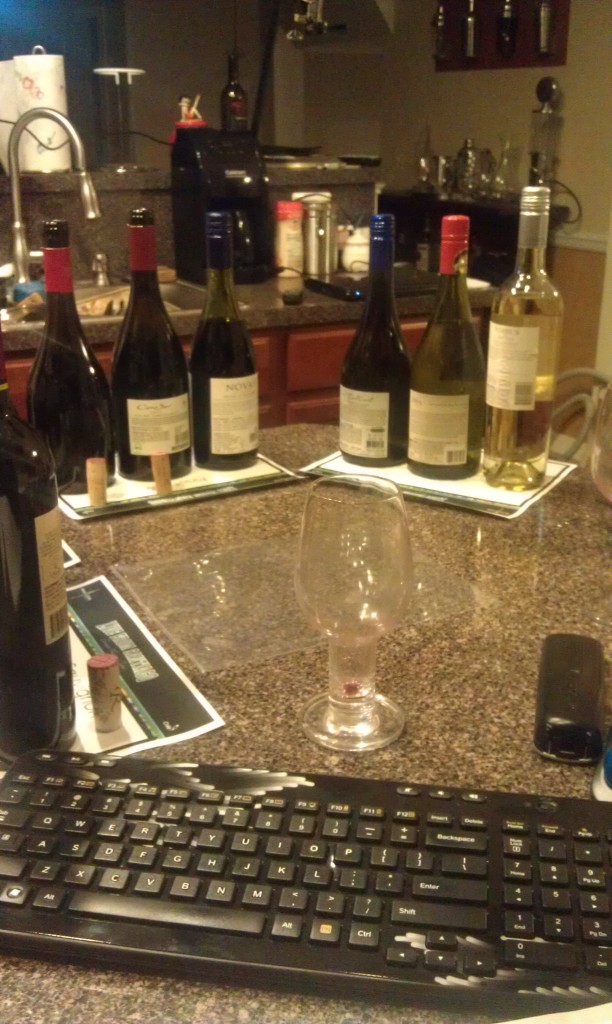 Well it was that time again, time for the Wines of Chile Blogger tasting. This being the 8th virtual tasting they've held, it was mixed up a bit, with us receiving a mix of 12 wines as opposed to the usual 8, and our host, Master Sommelier Fred Dexheimer being in Santiago, Chile himself as opposed to New York. We were all jealous.
Instead of focusing on one or two varietals as these tastings typically do, it was focused more on the regions and the grapes that were produced there. Because of that we had 4 different types of wine to sample – 3 each of Sauvignon Blanc, Pinot Noir, Carmenere, and Cabernet Sauvignon.
So, how did the tasting go? Let's break it down by each grape and take a look.
Sauvignon Blanc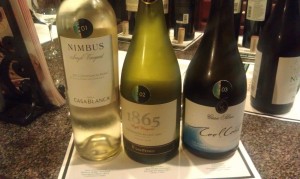 The Sauvignon Blanc portion of the tasting started off with the 2012 Vina Casablanca Nimbus ($13 SRP). The wine was light and crisp, with aromas of citrus and grassiness and flavors of citrus with subtle mineral notes and a bit of green pepper. Would be a great one to pair with some ceviche.
Next was the 2011 San Pedro 1865 Single Vineyard ($19 SRP), with aromas of asparagus and a bit of jalapeno and flavors of jalapeno and a bit of heat. This was a stark departure from the Nimbus and really what I expect from Sauvignon Blanc in general, especially from Chile, which is part of why I like these tastings.
The final Sauvignon Blanc was the 2011 Casa Silva Cool Coast ($19 SRP), which is one that I've had before. Aromas of lime and minerality with flavors of lime and the same mineral that I picked up on the nose and a touch of effervescence.
The favorite of the Sauvignon Blancs was the Nimbus, followed by the Cool Coast and the San Pedro last. The 1865 was definitely more of a food wine, with the first and third options being well suited to warm days on the deck as a sipper.
Pinot Noir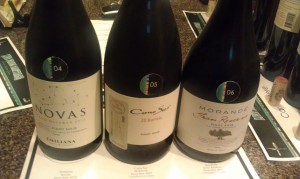 The Pinot Noirs started with the 2010 Emilliana Novas ($19 SRP), which featured great floral and red berry aromas with just a hint of smoke, and flavors of red berry and a bit of soft oak. It was a nice balanced wine and would be a perfect pizza wine, especially at such a good value.
Next was the 2009 Cono Sur 20 Barrels ($32 SRP) with aromas of berry, cocoa, and leather and flavors of soft red fruit, strawberry, some leather and a bit of cola. It was a soft wine with some brightness in the mouth. Cono Sur tends to impress at these tastings and this was no exception.
The final one was the 2009 Morande Gran Reserva ($18 SRP) with aromas of violets and very ripe strawberry that reminded me of a California Cabernet Franc as much as anything, and flavors of intense, sweet fruit with white pepper and an almost jammy note. In a blind tasting I don't know that I wouldn't pick this as a California Cab Franc as opposed to a Chilean Pinot Noir.
My favorite of the Pinots was the Novas, followed by the Cono Sur and the Morande last. While sharing these wines with friends on Saturday the Novas was quickly consumed before everybody even had a chance to arrive and taste it, so it was clearly popular.
Carmenere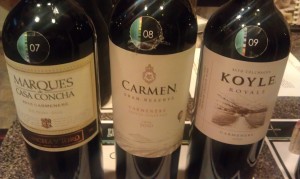 The signature grape of Chile started off with the 2010 Concha y Toro Marques de Casa Concha ($22 SRP) with a nose of dark cherry and chocolate and flavors of dark cherry, mocha, and some thorny bush. The wine was elegant and balanced, would pair great chocolate, and may have been my favorite wine of the entire night, especially at such a great price.
Next was the 2010 Carmen Gran Reserva ($15 SRP) with aromas of tobacco, earth, and an initial pop of green pepper and flavors of leather, spice, dark red fruit, and some mineral/graphite. This was my wife's favorite Carmenere, and possibly her favorite wine of the night. I did enjoy it as well and definitely thought it was a great value.
The final Carmenere was the 2009 Koyle Royale ($26 SRP) showed aromas of dark fruit and graphite with a bit of must and flavors of dark fruit, clay, and a little heat. My general reaction to this wine was meh – it wasn't terrible, but it didn't grab me like the other two did, making it my least favorite of the threesome.
Cabernet Sauvignon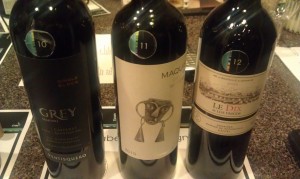 Our final selection of wines started with the 2009 Ventisquero Grey ($29 SRP) which featured aromas of dark chocolate that faded to a cherry-ish note that reminded me of Robitussen as much as anything, not something I find appealing, and flavors of cherry, must, some nuttiness, and a little violet on the finish.
The 2010 Maquis Cabernet Sauvignon ($19 SRP) showed me aromas of dark fruit and leather, both very soft, and flavors of red fruit, leather, and some soft oak and mineral/graphite/clay/pencil lead. Along with a little chocolate at the finish the wine wasn't bad, but was another that I just find kinda meh during the tasting. I will say that I found the wine much more enjoyable on Saturday, so if you're going to get this one, giving it some time to open is definitely worth the wait.
The final wine was the 2009 Los Vascos Le Dix ($65 SRP) which showed aromas of bright red fruit for the most part and flavors of cinnamon, red fruit, some soft tannins, and cherry. It was good, and I certainly enjoyed it much more on Saturday after the wine had some time to open up, but I really can't justify the cost of it. If you're going to buy this wine, make sure you give it time to open up, otherwise it's kinda tight and underwhelming.
Review
All in all I enjoyed the tasting thanks to getting to see how different grapes could be within the same varietal by coming from different areas or being made my different winemakers. I will say that towards the end of the tasting my palate felt a little fried, so I do hope that they return to the 8 bottles for future tastings as I think it lets us focus on them a bit more.
I continue to be a fan of Chilean wine, recommending it to friends and family and purchasing it for my own consumption on a regular basis. My favorite wine of the night was probably the Concha y Toro Carmenere, with the Novas Pinot Noir coming in a close second.
My thanks to the winemakers and The Thomas Collective for putting on another great event, and I look forward to future tastings and getting to try more Chilean wines.