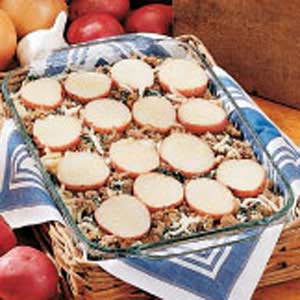 I've had a lot of people ask me for the recipe that I referenced in my review of the Peju Provence.  So, while I do appreciate all of the emails asking for it, here's the recipe for Potato Lasagna.
Ingredients:
2 tablespoons olive oil
2 garlic cloves, minced
1/2 teaspoon each salt and pepper
7 medium red potatoes, sliced 1/4 inch-thick
1 pound ground Italian Sausage
1 large onion, chopped
2 packages (10 ounces each) frozen chopped spinach, thawed and drained
1 cup ricotta cheese
1/4 cup Italian-seasoned dry bread crumbs
Dash cayenne pepper
2 cups (8 ounces) shredded mozzarella cheese
1/2 cup chicken broth
2 tablespoons grated Parmesan cheese
Instructions:
In a large bowl combine oil, garlic, salt and pepper. Add the potatoes and toss to coat. Spread evenly in an ungreased 15x10x1 baking pan. Cover tightly with foil. Bake at 425 for 35-40 minutes or until tender. Cool at least 15 minutes. (My wife prefers to use a vegetable steamer/rice cooker or to microwave the potatoes before slicing them. She recommends that, but wanted to give you both options).
In a large skillet, cook sausage and onion over medium heat until no longer pink; drain. Combine spinach, ricotta, crumbs, cayenne, salt, pepper in a medium bowl.
Arrange a third of the potatoes evenly in a greased 13x9x2 inch baking dish. Layer with half of the spinach mix, half of the sausage, and half of the mozzarella. Repeat with a third of the potatoes and the remainder of the spinach mixture, sausage, and mozzarella. Pour broth over the top. top with remaining potatoes. sprinkle with parmesan. bake, uncovered, at 350 for 30-35 minutes. Let stand 5 minutes.
This should make 8-10 servings, though if you're like my wife and I we enjoy it as leftovers the next day.  Hope everybody enjoys it as much as we do.