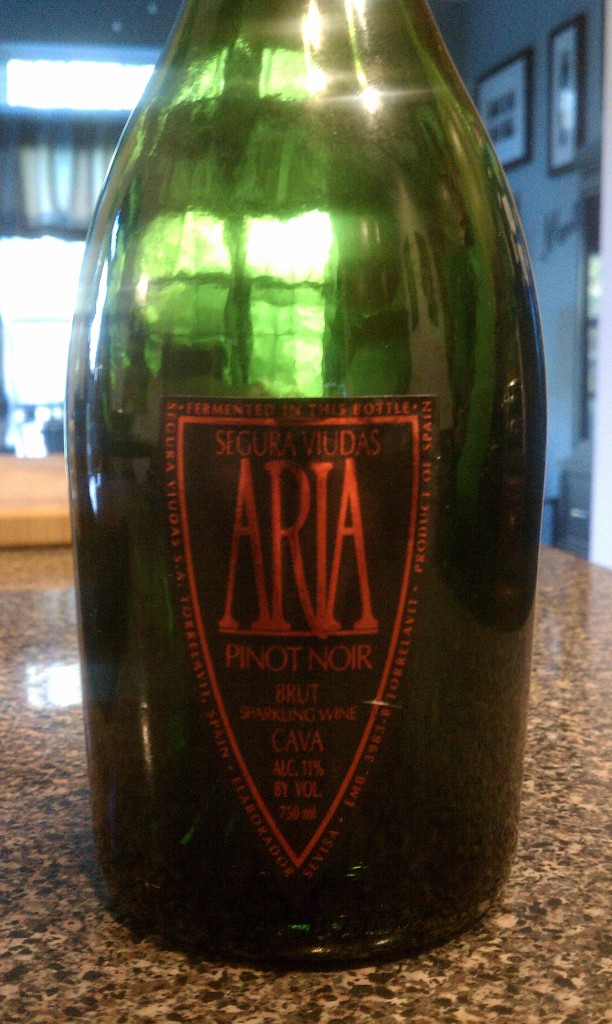 Varietal:Â  100% Pinot Noir
Region:Â Â Spain
Cost:Â  $13
Winemaker's Notes:Â Â Â Pale, bright raspberry pink, with an abundant, uninhibited mousse. Intense raspberry aromas, backed by strawberry and aniseed, and a hint of cherry caramel. Red berry flavours dominate the palate, complemented by strawberry, touches of peach, watermelon, and lemon. There is a lovely minerality which adds to the complexity, and just a hint of sweetness which will increase its versatility in both food pairings and when it will be drunk.
My Review:Â  My wife and I picked up this bottle at a local store after having dinner last week as the bottle looked interesting and we didn't have any bubbles in the house, something we're trying to do a better job of remedying. While neither of us was familiar with the maker, a Cava made with 100% Pinot Noir was intriguing so we bought and this past week, opened.
We both suspected the wine would be a rose', but given the darkness of the bottle it wasn't possible to know for certain until the first bit fell into the glasses. On the nose I got a the raspberry and strawberry, which I expected from a rose'. In the mouth I continued to get strawberry but it was more subtle. The actual bubbles were very small, to the point that once would almost think this a still wine that just happened to have a hint of effervescence to it.
We paired the wine with some seafood and while it wasn't a bad pairing, I just honestly wasn't a huge fan of this wine. There was nothing that was categorically "bad" about it, but I also know that for the price I can get a Cava that I will really enjoy, not one that's just meh.
If you're looking for a rose' Cava to try out, I don't think you'll hate yourself for picking up this one, but neither do I feel like you'll be missing anything if you pass it over in favor of another.