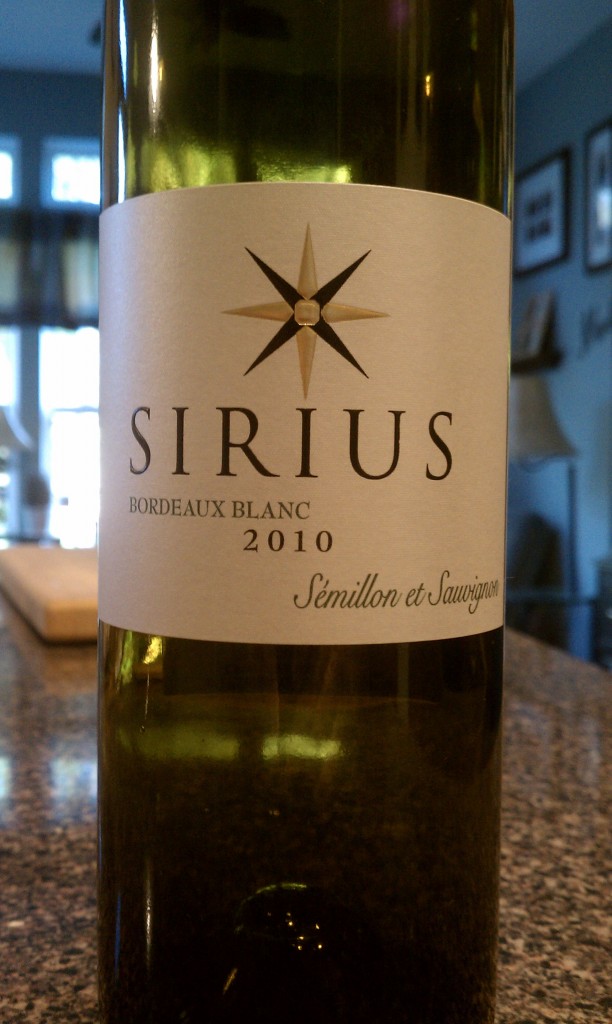 Varietal: 50% Semillon; 50% Sauvignon Blanc
Region: France – Bordeaux
Cost: $12
Winemaker's Notes: An elegant pale yellow colour, green at rim, with a nose of white blossom and citrus fruit, these aromas melting into the ample, supple palate. A discreetly fizzy sensation imparts vibrancy and freshness to rich, fleshy extract. Pairs well with chicken and seafood such as shellfish.
My Review: On a recent trip to my local Fresh Market, there was a small selection of wines (2 wines to be specific) being poured. One was a Malbec blend, and the other was the 2010 Sirius Bordeaux Blanc. Impressed enough with it and the price, I grabbed a bottle to take home to my wife. I'm thoughtful that way.
We actually opened the bottle first on Sunday and enjoyed a glass on the deck while getting some sun and reading, but make sure to save some for dinner the next night to pair with some pesto tilapia with risotto and sauteed spinach from the local farmer's market. On the first day I got a lot of the Sauvignon Blanc aromas that I would expect, lime and grapefruit mostly, and even in the palate at first I started to question whether the bottle was lying to me on it being a 50/50 blend of Sauvignon Blanc and Semillon, but instead of the citrusy, acid finish that I've come to expect from even the most mellow of Sauvignon Blancs I got a more subtle mineral note that was quite refreshing, especially on a hot afternoon on the deck.
The second day, when paired with dinner, the mineral note was more subdued, but the same citrus notes that I'd experienced the day before came out and made a great compliment to our dinner, adding a light note against the richness of the risotto and and the pesto.
My only complaint with this wine was that the mineral note didn't carry over very well after the bottle had been open for a day (though properly sealed and stored away). That being said, this was a great deck wine for a hot day and a great pairing for some seafood or light hors d'oeuvres during a cocktail party. If you're looking for a new white wine to try and you're already a fan of Sauvignon Blanc I would recommend giving this one a try. If you can't find it near you, follow this link and you should be able to have some shipped to you.