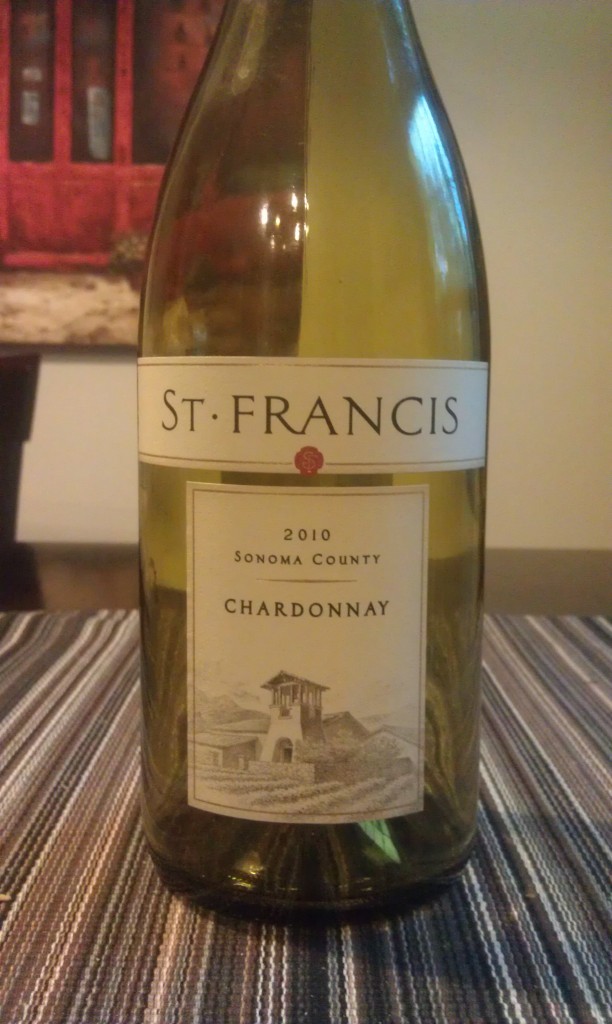 Varietal: Â 100% Chardonnay
Region: Â Sonoma County, California – USA
Cost: Â $16 (SRP)
Winemaker's Notes: Â Aromas of ripe Asian pear and tropical fruit combine with fresh minerality. This medium-bodied Sonoma County Chardonnay displays a creamy texture with bright flavors of green apple and Meyer lemon, followed by crisp acidity and a strong, lingering finish.
My Review: Â Chardonnay can often be a hard sell in my house, especially if it's been oaked, as my wife isn't the biggest fan of the wine, partly because of her dislike of oaked Chardonnay. It was with that in mind that I opened up the bottle of 2010 St Francis Sonoma County Chardonnay that had been sent to me some weeks before.
In the glass the wine was a medium gold color and I picked up aromas of pear and tropical fruit. In the mouth the wine had a bit of creaminess to it that I attributed to the 6 months spent in oak (100% French Oak, 25% new). Flavors of lemon were most prominent to me, but tempered from any real sort of acidity by the creaminess of the wine.
Paired with a dinner that consisted of some chicken breasts covered in these new Kraft bags filled with cheese and flavoring (this one had bacon and sharp cheddar – it's lazy but nice on a Thursday after work), the wine showed well enough, the lemon flavor cutting through the bit of smokiness from the bacon and cheddar.
I'm not going to go so far as to call this a great Chardonnay, but for the price you can do a lot worse, and the oak profile on it isn't overwhelming, making it appealing to those that don't really like oaked Chardonnay. All in all a passable wine, but nothing that blew me away.
Note: I received this wine as a free sample