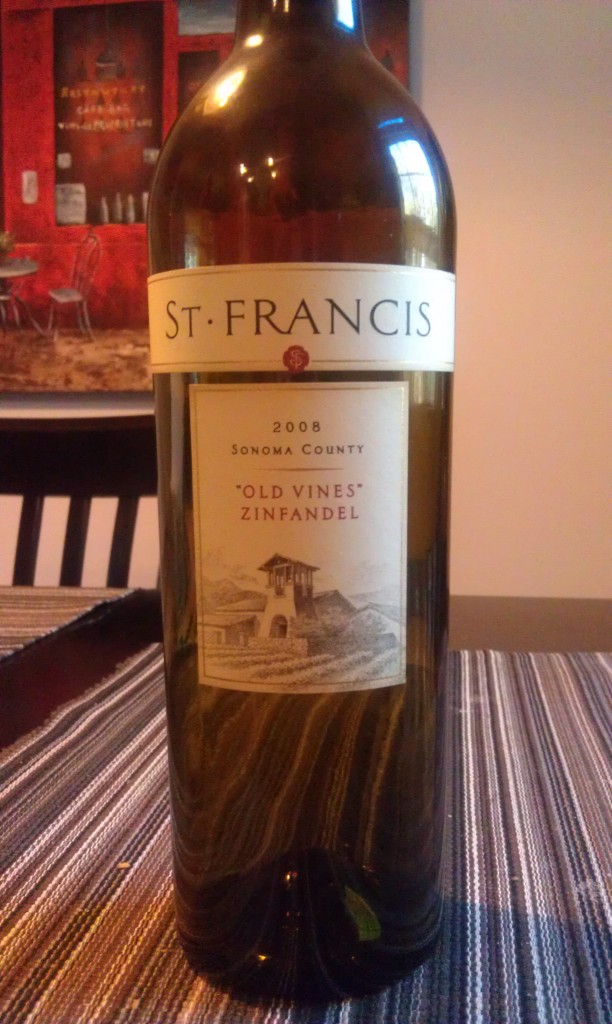 Varietal: Â 89% Zinfandel; Remainder a blend of Alicante Bouschet, Mourvedre, Carignane, Syrah, and Petite Sirah
Region: Â Sonoma County, California – USA
Cost: Â $24 (SRP)
Winemaker's Notes: Â A classic old vine Zinfandel that pays tribute to its heritage, this wine offers aromas of cigar box, raspberry, pepper and spice. Flavors of ripe black cherry and vanilla bean are followed by a long, luscious finish.
My Review: Â I received this wine a few weeks back and had debated what to pair it with. Initially I thought about going with a steak because let's be honest, I love steak and red wine, but in the end, the weather, and my lack of a steak at hand, turned this into a pairing with some pasta and meat sauce that my wife and I shared on a rainy Wednesday evening.
We threw the bottle in the fridge to cool off a bit while dinner was cooking, then opened it up about 5 or so minutes before dinner was done. In hindsight, we should have opened it earlier or, more likely, decanted it. The wine is hot, and by hot I mean the alcohol really comes through, which shouldn't be a surprise since it has 15.5% alcohol by volume. We tried the wine by pouring it through our Vinturi and that helped a little, but even with that, the alcohol flavor was pretty noticeable.
As for the wine itself, it was a deep reddish purple in the glass, and while the majority of the aromas I picked up were just the alcohol, I did get a bit of cigar box when I poured the wine through the, as my wife and I call it, "Bubbler". In the mouth the alcohol continued to be a major obstacle, but I did get cedar, cigar box, and dark cherry notes towards the end.
I hesitate to say whether the wine paired well or not with the food if only because of my ability to get a ton of flavor out of it. The flavors I was able to pick out certainly would have gone well with the meal, or a steak for that matter, but the alcohol on the wine was really overwhelming and honestly something of a downer for both my wife and I.
If you're insistent on buying this wine I'd say make sure to decant it well before you plan to drink it. That being said, I know there seems to be an arms race of late with Zinfandel having high alcohol, but it's not something I'm really a fan of. The flavors started coming through on the end of this one, but I suspect most people won't take the time to decant this wine, which means they'll be missing out on what is there. Only get this if you actually plan to decant, otherwise you probably want to go after something else.
*Note: This wine was received as a free sample.