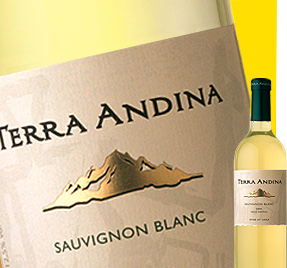 Varietal: Â Sauvignon Blanc
Region:Â Â Chile
Cost:Â Â $9.99
 Pale straw colors and a crip nose match flavors of citrus fruit, most notably grapefruit, perfectly.  Also featuring lime, nectarine, and hints of peach flavoring.  A very light white wine.
Recommendation:Â Â I first came across Terra Andina Sauvignon Blanc while at the Seafire Grill in Richmond, Virginia (which is where I live). Â I instanly fell in love with the crisp flavors, especially the prevelance of grapefruit, which I don't enjoy by itself. Â Searching for the wine at my local shops turned up nothing until this past week when I stopped into Private Stock Cigar & Wine. Â There it was, the wine I had been searching for for the better part of 2 years. Â Purchased and taken home, it didn't take long until my wife and I enjoyed it on our deck.
While I normally try to pair wine with food, we're getting into the time of year where I like to just sit out on my deck and enjoy a glass of white wine. Â The Sauvignon Blanc from Terra Andina is perfect for that. Â Light and crisp, it's still full of flavors and not at all sweet. Â The citrus fruit flavors are the perfect for enjoying on a hot summer day, or for pairing with any number of meals from pork, to chicken, and even seafood. Â For the price, this is easily one of my favorite whites, and if you happen to find a bottle of it, I would highly recommend grabbing it, especially as the temperature continues to rise.