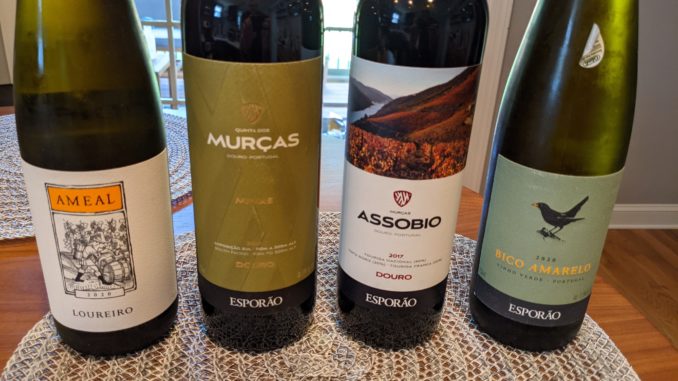 I've been getting to taste a lot of Portuguese wine lately – that's definitely not a complaint. Recently I got to attend a virtual tasting featuring wines from José Luis Moreira da Silva (also known as Ze Luis); winemaker for the Esporao group at Quinta dos Murças and Quinta do Ameal. We tasted two whites from Quinta do Ameal, both Vinho Verde, and two reds from Quinta dos Murças.
A little background
A little bit of background on the estates. Both are in the northern part of Portugal, with Quinta do Ameal residing near Portugal's Atlantic coast in the Vinho Verde region and Quinta dos Murças being in the Douro region inland. Check out the map below for a better picture of their locations.
The Vinho Verde region is Portugal's largest DOC area, as well as being it's top selling region. Quina do Ameal is located in the Lima Valley sub-region. The soil there is predominantly granite, which helps to impart a refreshing mineral note into the wines.
The Douro region is known for its terraced fields. Fortified wines that come out of the region are labelled DOC Port, while the unfortified wines are labelled DOC Douro. Delineated in 1756, it's the world's oldest demarcated and regulated wine region. While originally focusing on fortified wines, table wines now account for 50% of the region's output.
The Wines
All of this leads us to the wines. The original plan was to try four different wines, but because of heat damage during shipping, several of us only had three to try (I was amongst that group). Still, there were some amazing wines, and it was a great tasting. Both of the white were from Quinta do Ameal in the Vinho Verde region, while both reds (even though I'll only share my thoughts on the one) were from Quinta dos Murças in the Douro region. So let's jump into them.
2020 Ameal Bico Amarelo
Variety: 40% Loureiro, 30% Alvarinho, 30% Avesso
Light yellow in color with green tones. On the nose I got aromas of citrus and tropical fruits. On the palate the wine had good balanced acidity, with notes of lime giving way to mineral notes with a hint of salinity. The 2020 Bico Amarelo was crisp and refreshing, perfect for a hot day, which we've had lots of here in Raleigh.
My wife and I really liked this wine. I think if I'd had some freshly shucked oysters I wouldn't have bothered with the other wines. Pairing this with some salty goat cheese or fresh seafood would be a perfect match.
2020 Ameal Loureiro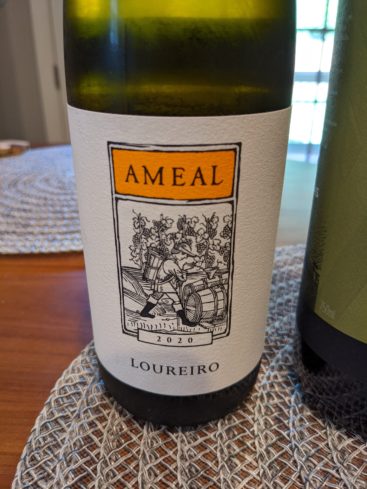 Variety: 100% Loureiro
Light yellow with green hues. On the nose I got aromas of white stone fruit and lemon with some floral notes. In the mouth the wine was fresh with citrus flavors and a mineral finish that gave way to an almost slightly oaked note. The wine wasn't oaked (I triple checked the tasting notes to make sure), but it had a roundness at the finish that I wasn't expecting. Of the two whites, this one struck me as more food-friendly for a main course, while the first was something I'd sip on a patio with appetizers (or the aforementioned oysters).
2018 Minas
Variety: Touriga Franca, Touriga Nacional, Tinta Roriz, Tinto Cao, Tinta Francisca
A deep garnet color with purple hues in the glass. On the nose I got aromas of ripe red and black fruit, floral hints, and a bit of spice and baked bread. In the mouth I got notes of ripe red fruit with a lingering finish. The best description of the wine is "zippy" – it was lighter than I expected it to be, but that's not a knock on it. The finish lingered a bit, but showed some good acid that made this a good warm weather, something I'm always on the lookout for.
Wrapping-Up
This was a great tasting, and it made me want to head out to my local wine shop and pick out some Vinho Verde to sip on as we get into the dog days of Summer. Thanks to Ze Luis and Kate Corcoran at Create Palate for organizing and hosting this event.
Editor's Note: I received these wines as free samples for the event.