I'm a fan of South American wine, having enjoyed the wines of Chile, Argentina, and even Brazil. Because of that, when I was invited to a tasting at the Uruguay Embassy featuring the wines of Uruguay, I jumped at the opportunity. The tasting was an opportunity for a number of vineyards to show off Uruguay's main grape – Tannat. I've had Tannat in the past, but typically as part of a blend, so getting to experience it interpreted as a single varietal by different winemakers was something new to try, and I do enjoy new wine experiences.
I won't go into each individual wine that I tried, as there were 14 different vineyards pouring at the event. Instead, I wanted to pick out a few that really jumped out at me. Before I do that, it is worth pointing out that while the event was designed to show off Tannat for Uruguay, it is by no means all that they make, with Sauvignon Blanc, Merlot, Cabernet Franc, Tempranillo, and Cabernet Sauvignon also being represented at the tasting.
Antigua Bodega Stagnari 2011 Prima Donna Tannat
I got to sip on a number of Tannats, but the 2011 Prima Donna from Antigua Bodega Stagnari really jumped out at me. A big nose featuring dry, cedar and cigar box notes.
Artesana Tannat Zinfandel Merlot
Artesana is the first American owned vineyard in Uruguay, as well as having two female winemakers. They also produce Zinfandel, making them unique among other vineyards in the country. Their Tannat Zinfandel Merlot managed a great mix of dry and juicy at the same time with anise and dry cherry in the mouth. The blend of the wine was 55% Tannat, 25% Zinfandel and 20% Merlot.
Gimenez Mendez 2011 Alta Reserva Malbec
A 100% Malbec wine featuring notes on both the nose and in the mouth of smoke, meat, and bacon that was, quite frankly, excellent. A lot of the Tannats I sampled featured notes of meat and bacon, but I was happy to find a similar note in a Malbec.
Establecimiento Juanico Uruguay 2009 Familia Deicas Preludio Barrel Select Red
A blend of 90% Tannat, and the other 10% being made of up of Cabernet Franc, Petit Verdot, Cabernet Sauvignon, and Merlot, the 2009 Barrel Select Red showed off notes of bacon and juicy fruit in an enjoyable and approachable Bordeaux-style red.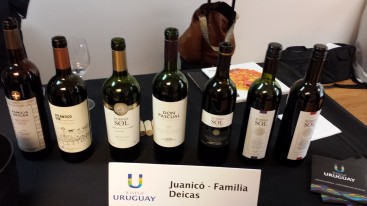 Marichal 2011 Premium Varietal Merlot
100% Merlot with smoke and green tree notes on the nose and pepper and dust in the mouth. I know this one was good because my notes included a smiley face next to them…that means it was good.
This is by no means a comprehensive list of some of the wines that I enjoyed at this tasting. I knew that Uruguay was making wine, but it's good to see that they're making some really good wine and I'll be interested to try more of them in the future, which means I hope my local stores will be carrying them.