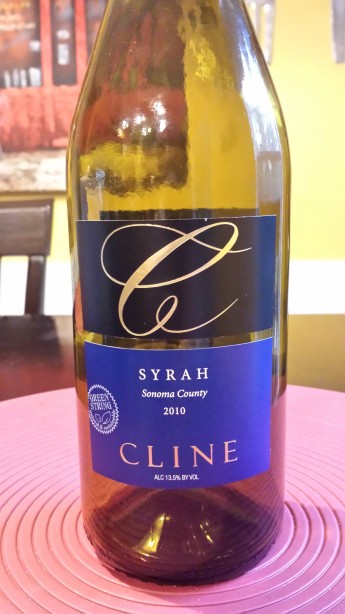 Varietal: Â Syrah
Region: Â Sonoma County, California – USA
Cost: Â $12 (SRP)
Winemaker's Notes: Â This wine is the epitome of savory. Fresh cracked black pepper aromas complement the black cherry fruitiness and make it a great match for grilled salmon and sauteed vegetables served over pasta.
My Review:Â  I realized as I opened this bottle that I don't really drink that much Syrah all by itself. It's not that I dislike the grape, or that I don't enjoy it as a blend, but that when combing the aisles of my local grocery stores I don't typically pick out Syrah (or Shiraz). There's no particular reason, which made getting to sample this wine if not a unique experience, at least one that doesn't come along too often in my house.
In the glass the wine was a nice dark reddish-purple color, and on the nose I picked up tart fruit notes. On the palate the wine was light and tart with black cherry and a bit of pepper. Paired with a dinner of pasta with red sauce and chicken meatballs the wine complemented the acidity of the sauce, the tartness of the cherry working well with the tomato flavors of the sauce (and the extra cherry tomatoes we added).
I don't drink enough Syrah to call this a great wine, but I do try enough wines to say that it's not a terrible wine. It's a good value, an easy sipper, and a reasonable option for those that prefer a lighter red as opposed to something that will linger after every sip.
Editor's Note: I received this wine as a free sample for review.