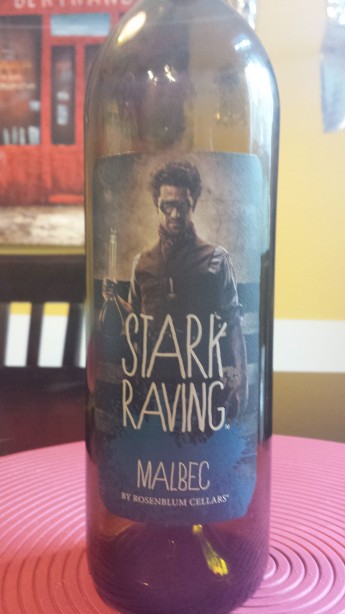 Varietal: Â Malbec
Region: Â Argentina
Cost: Â $5 – $12
Winemaker's Notes: Â Medium-bodied with a touch of spice. Dark cherries and smokey bacon form a winning combination.
My Review: Â I'm always on the look out for budget wines that can deliver. It's not that I don't enjoy a $45 bottle of Bordeaux, but that's not always in the budget, and not always practical for when I'm just having a slice of pizza or something else quick and easy on a Wednesday night. I'd seen the Stark Raving wines at my local grocer the last few times that I'd popped in, and on a recent stop my wife decided to grab a pair of the wines (since they were running 2 for $10 at the time) to give them a try. I have to say, the Malbec impressed.
In the glass the wine was a nice dark purple color, and on the nose I picked up spice and dark fruit. In the mouth, however, was where the wine really surprised. Dark cherry, smokey bacon, and a general meatiness jumped out where bright fruits were expected. This wine showed a lot more complexity than I was expecting, and while we got it for an amazing price, even at $12 I'd say this is a pretty good value wine, being perfect for that mid-week wine when you want something to sip on that will pair well with food, but is easy enough to drink by itself.
I don't want to say that this is the greatest Malbec ever created, but it's certainly one of the better budget wines I've tried lately and if you can find it on sale, it's an even better deal. Give it a try if you're looking for a red to try on a weeknight with a piece of pizza or a hamburger and I don't think you'll regret it.