I don't know that I would call it a growing trend, but there's at least a continuing trend of vineyards and wineries creating wines that are either designed to raise awareness or funds for charitable causes. In the case of Handcraft Wines, they've created the Inspiration Red and White to help raise awareness for cancer research. As part of their awareness campaign they reached out to bloggers  like myself to host events to get the word about the wines, and what they're about, out to our circle of contacts. As I can always get behind a good cause, and an opportunity to get some friends together to share a glass of wine, I was happy to oblige.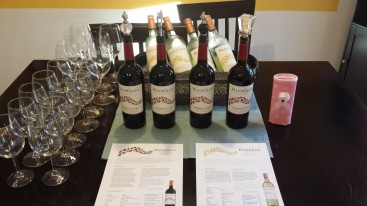 First, a quick look at the wines. Both have an SRP of $13. The Inspiration Red is a blend of Syrah, Zinfandel, Merlot, Malbec, and Sangiovese, while the Inspiration White is a blend of Riesling, Sauvignon Blanc, Viognier, Moscato, and Pinot Grigio that's been aged in 100% stainless steel.
The Inspiration Red showed lots of jammy fruit in the mouth, with plum and blackberry mixing with a little spice to coat the mouth. It's medium-bodied, easy to sip on, and was added to my list of wines to keep in mind for when the weather turns and my wife and I are making beef stew, since it really calls out for something hearty to enjoy it with.
The Inspiration White showed honeysuckle, apricot, and pear with just a hint of sweetness, not surprising given the makeup of the wine. It's by no means syrupy or overly sweet, the Sauvignon Blanc and Pinot Grigio adding enough acid and citrus to prevent that from happening, but if you're either against sweet wines or don't have the right pairing, it may not suit everybody. That being said, with the cheese fondue and roasted red pepper hummus we put out, it was a nice pairing.
The wines were all well received by our friends. A range of palates meant that different guests gravitated to different wines, but there were also plenty that were alternating between the two. The reds arguably went faster, but that may have to do with the tastes of my friends more than being a commentary on the Inspiration White.
All that being said, the wines were enjoyable, they're definitely a good value, and if nothing else, they're for a good cause, which I think anybody can get behind. If you're looking for a value red or white that offer up more than a single note, the Inspiration Red and White do an admirable job of filling that niche.