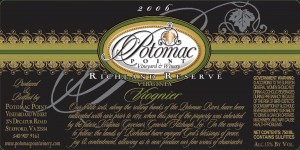 Varietal:  Viognier
Region:  Virginia – USA
Cost:  $17
A Rhone varietal aged in stainless steel and French oak barrels.  The golden color leads into a floral wine that is the favorite of Potomac Point employees.
Recommendation:  My wife and I drank this with grilled pork chops, and it was great for that.  The floral flavors of the wine are subtle, but weren't overwhelmed by our meal.  Even had I not known it was aged in French oak, the slight buttery taste makes it evident with a bold finish to the wine.  Perfect for pairing with grilled white meat or for enjoying by itself, but will probably overwhelm all but the most heavily seasoned fish.  Otherwise, a great wine to keep on hand.