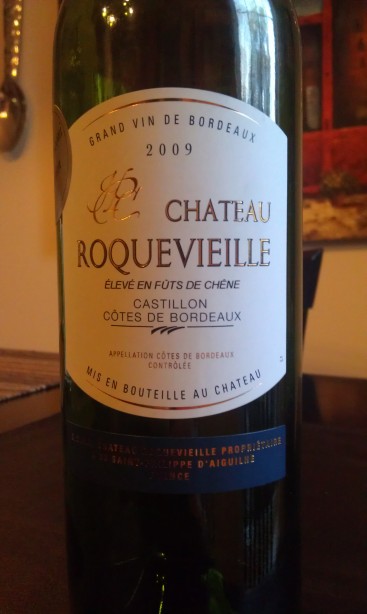 Varietal: Â 70% Merlot; 15% Cabernet Franc; 15% Cabernet Sauvignon
Region: Â Bordeaux, France
Cost: Â $17
Tasting Notes: Â Coffee and smoke notes dominate cherry and herbal flavors in this fleshy red, which has firm tannins that give way to berry and floral notes on the finish. This wine pairs perfectly with red and white game as well as a variety of cheeses.
My Review: Â The final bottle of my attempt to expose myself to more French wines, though by no means the last bottle of French wine I'll pick up. While cooking up some steak last weekend I decided to open up this bottle to pair with the food since the bottle recommended pairing it with red meat, and who was I to argue? That's going to be a trend in the coming months as it continues to be grilling weather; mark my words.
Anyways, on to the wine.
The wine was a nice dark purple in the glass, and on he nose I picked up coffee and cherry most prominently. In the mouth the wine was smooth, with the coffee flavor continuing, with underlying flavors of cherry and herb. The wine paired well enough with the steak, providing enough body to stand up to the Ribeye that I had grilled, but being a great sipper thanks to the smooth finish.
I really liked this wine, and think it's a great value being under $20. It will hold up well to grilled food, which makes it a great buy this time of year, but the easy drinking nature of the wine makes it great for sitting around the house with cheese and crackers, or with nothing at all. Definitely worth checking out, and one I can see myself picking up again.