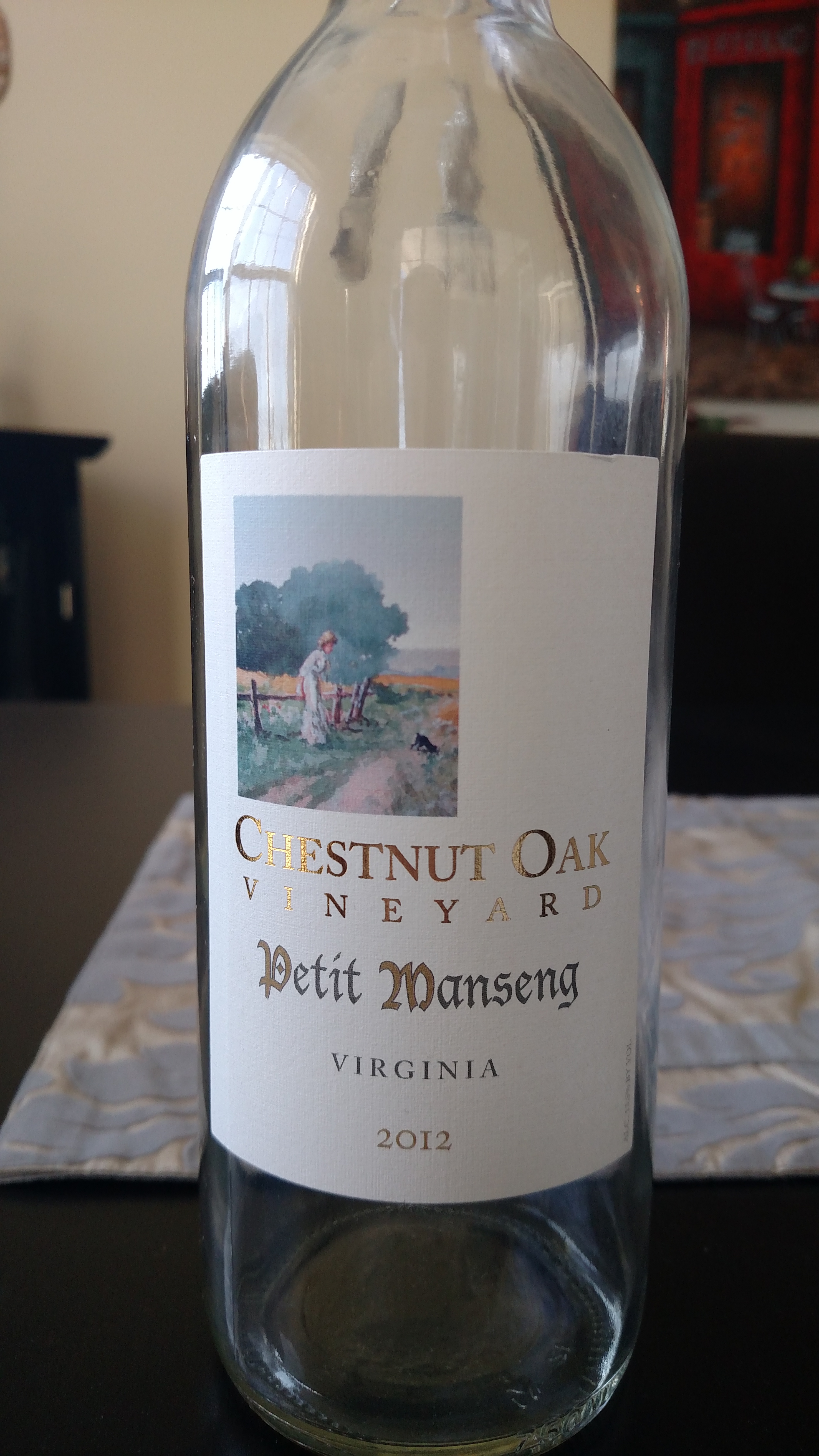 Varietal: Â Petit Manseng
Region: Â Monticello AMA, Virginia
Cost: Â $18 (SRP)
Winemaker's Notes: Â Light straw appearance and nose of grapefruit, lemongrass, and bananas only hint at the complexity ahead. The slightly acidic attack is undergirded by citrus notes, leading to a slightly reluctant mid-palate that eventually reveals floral elements, tangerine, fig, sharp apple, white grapefruit, under ripe pear, peaches, and honey. The memorable finish lingers nicely with elements of honeysuckle, roses, pineapple, lemon, and a slight hint of cantaloupe.
My Review: Â So if you haven't been following along with Virginia Wine Chat (and you really should), you've missed out on the regular question posed to the group – what's the most underrated grape in Virginia. Frank Morgan, the writer of Drink What YOU Like and the moderator of VA Wine Chat, has been pushing for Petit Manseng, so it's fitting that on the eve of the next VA Wine Chat (which does feature a Petit Manseng), I share my thoughts on one I recently opened.
In the glass the wine was a nice straw color, and on the nose I picked up bananas more than anything else. In the mouth the wine lead with some acid before moving on to tangerines, floral notes, peaches, and honey for me. The finish on the wine was a lovely combination of honeysuckle and pineapple.
My wife and I paired this wine with pulled pork tacos, and I do have to recommend the pairing – the wine has about 1% Residual Sugar, so it's not syrupy, but you'll want something with some spice to it to counter balance that; nachos, blackened salmon, or really anything Thai or spicy Asian.
I've had both syrupy Petit Manseng and bone-dry Petit Manseng. I'll admit to preferring the latter, but I did enjoy this wine. It is, however, a food wine, and not one you're likely to sip by itself – not too much sweetness, but enough that you'll want something to even it out.