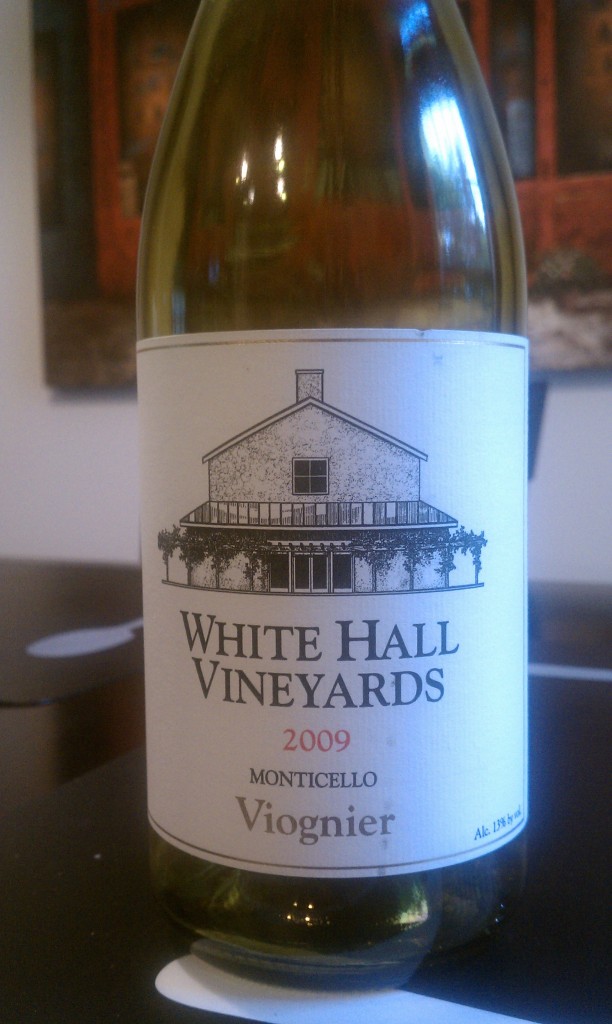 Varietal: 100% Viognier
Region: Virginia – USA
Cost: $17
Winemaker's Notes: An opulent bouquet of ripe peaches, apricots, and honeysuckle is woven together with an intense palate full of orange, grapefruit, and subtle spice followed by a lengthy finish with bright acidity and hints of vanilla.
My Review: During a recent trip out to Virginia Wine Country my wife and I stopped in at White Hall Vineyards for the first time in some time and while there were several wines there that we enjoyed, we made a point of bringing home a bottle of the 2009 Viognier, which was opened up earlier this week.
While relaxing in our home on a hot day, my wife and I wanted something to sip on while she did some crafting for her Etsy page and I relaxed and watched some TV. Enter the White Hall Viognier.
On the nose I got the typical floral nose I associate with a Virginia Viognier. In the mouth I picked up honeysuckle  and a rose/floral note and a hint of sweetness on the finish that made it a great wine for just sipping on, but would have made it a good pairing for something with a little spice to it – maybe something Thai.
During the summer I drink a lot of Virginia Viognier as it's a nice refreshing wine with all the heat and humidity we get here in Virginia, and the 2009 Viognier from White Hall Vineyards is a great example of why I enjoy it so much – light, crisp, refreshing, and great by itself or with some food. Definitely one I recommend grabbing if you can get your hands on it.