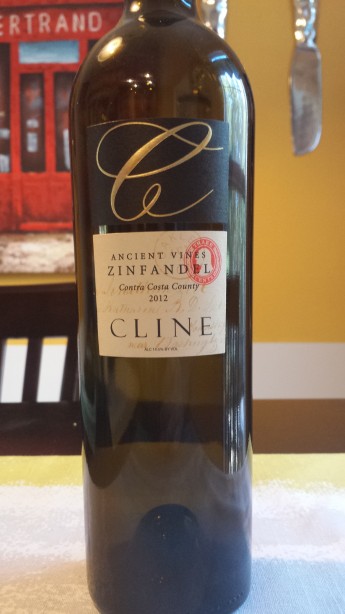 Varietal: Â Zinfandel
Region: Â Contra Costa Country, California – USA
Cost: Â $18 (SRP)
Winemaker's Notes: Â Wonderful, fat strawberry, with coffee and chocolate characters. Ripe fruit and soft tannins make this a mouth-coating rich vintage. Pair with pasta dishes with a light tomato sauce or grilled meats.
My Review:Â  While it's been written about in publications far more respected than this site, there has been a trend in recent years of Zinfandel seeing high levels of alcohol, particularly that Zin coming out of California. Because of so many of the wines being "hot", they have, in many ways, become a love it or hate it proposition – you either enjoy them, or you just can't get past the heavy alcohol taste. I lean more towards the second camp, as I prefer my wines not to be hot, but I also understand that just because a wine has a listed alcohol content that's about 14% doesn't mean that it will come across as hot. The 2012 Cline Ancient Vines Zinfandel is a great example of that.
In my house Zinfandel usually gets paired with about 3 things: Â ribs, pasta, and steak. For this particular bottle we went with steak. In the glass the wine was a nice dark inky purple color and on the nose I picked up notes of strawberry. There was a touch of alcohol at the start (the wine is 14.5% alcohol/volume), but it quickly disappeared as the wine had a little time to open.
In the mouth the strawberry notes continues and were joined by the advertised coffee and chocolate notes. I was pleased to see that the bit of alcohol that I initially got on the nose never really carried through to the palate, and as the wine was allowed to open up the fruit flavors became more prominent and the wine, which was already fairly smooth, continued to even out and what tannins there were to soften.
Paired with the steak I thought the wine did a great job. I'd had the pair of New York Strips in a marinade all day so they were packed with flavor, but the bright notes of strawberry did a good job of providing a contrast to the rich, herbal flavors I'd imparted to the steak, while the coffee and chocolate of the wine complimented the steak on the finish. All in all, it was a really good pairing, and the wine was enjoyable to sip on before and after the meal as well.
If you prefer your Zinfandel a bit hot than this won't be the wine for you, but I will say that if you're looking for a Zin to match up with a steak or pasta and want something that's easy to sip on and will pair well with either, the 2012 Cline Ancient Vines Zinfandel isn't a bad pick-up, especially at less than $20.
Editor's Note: I received this wine as a free sample for review.