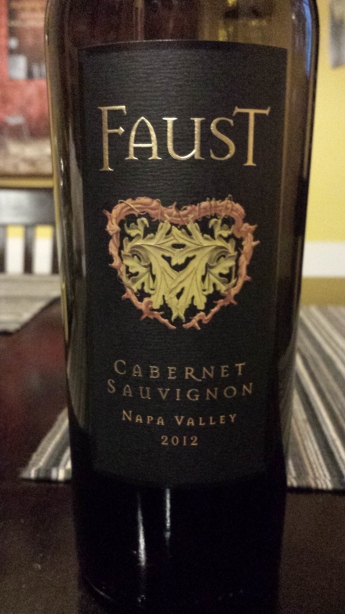 Varietal: Â 80% Cabernet Sauvignon; 16% Merlot; 2% Cabernet Franc; 2% Petit Verdot
Region: Â Napa Valley, CA – USA
Cost: Â $50 (SRP)
Winemaker's Note: Â Lush and smooth with a deep ruby red color and aromas of black cherry, red plum, and sandalwood that lift out of the glass. The wine has an inviting rich entry with a velvety texture and captivating notes of cassis, cocoa, and ripe wild berries. The complex flavors continue to unfold into a long rewarding finish. The 2012 is ready to drink upon release but will continue to develop and age gracefully over six to eight years.
My Review: Â Back in April I got a chance to try the 2011 Faust. Now we're on the the 2012, and I have to say, they are continuing with the excellence in wine, even with a slight change to the formula in what was already a really good wine.
In the glass the wine was deep red and on the nose I picked up dark cherry and sandalwood that were only enhanced the more time the wine spent in the decanter and the glass. In the mouth the wine was smooth and full-bodied, with great notes of ripe berries and cocoa that lingered just the right amount.
Paired with a dinner of steaks that had been marinating all day, the wine was absolutely fantastic, the lush berry notes complementing the richness of the meat. Seriously, this was a fantastic pairing and I can't recommend it enough if you're buying a bottle of this wine – which I also recommend.
It's fun when I get to compare a new vintage to the previous vintage. I'll admit that I hung up a bit on the 2011 as to whether it was worth the full $50, but there's zero hesitation with the 2012 – I loved this wine and was a bit heartbroken when the last sip was taken. Definitely worth a buy and worth sharing during the Holidays.
Editor's Note: I received this wine as a free sample for review.