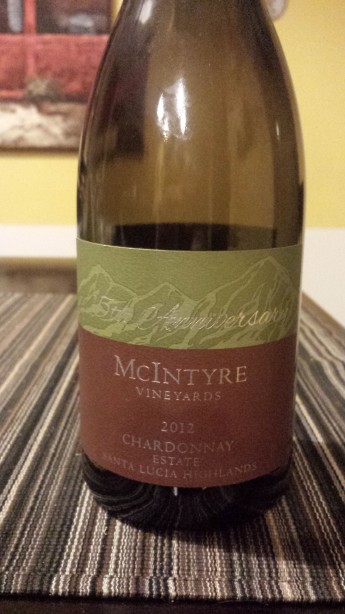 Varietal: Â 100% Chardonnay
Region: Â Santa Lucia Highlands, California – USA
Cost: Â $28 (SRP)
Winemaker's Notes: Â Pale gold in the glass, like warm autumn sunshine, this wine embodies the essence of the Santa Lucia Highlands with its aromas of baked golden apples, ripe pears, butterscotch, and lemon cream pie. In the mouth, it has ample minerality, persistently pleasant acidity, and delightful flavors of lemon bars, pear creme brulee, pineapple-carrot cake, and lemon meringue pie. Finishes with lively intensity, leaving a pleasant hazelnuttiness in its wake.
My Review: Â If you've read more than a handful of my reviews, you know that Chardonnay is a hot topic in my house. Not because I don't enjoy it, quite the opposite in fact, but because of my wife's preferences in the grape. For years she thought she just flat out didn't like – an acceptale response as I don't expect every person to like every type of wine. It turns out, however, that it's not that she doesn't like Chardonnay, only that she doesn't like Oaked Chardonnay – which of course the 2012 McIntyre Vineyards Estate Chardonnay is; aged in new Siruge French oak barrels for 8 months.
With that fact in front of me, I picked a time when my wife wouldn't be in a position to have to sip on the wine – the weekend we returned home from the Christmas holiday and got back into the swing of packing up our house for our impending move. Wine was definitely necessary.
In the glass the wine showed pale gold, and on the nose I picked up pear and butterscotch. In the mouth the wine definitely showed its time in the oak, but managed to balance it with a good bit of acidity, enough that my wife commented "it's not as bad as I thought it would be" when she finally conscented to taking a sip.
Flavors of lemon, creme bruelee, and pineapple jumped out at me, the creaminess of the wine balanced by the citrus notes streaked throughout it, making it rather pleasant for sipping on, as well as easy to drink with a late lunch that consisted of appetizer-style finger foods and cheese & crackers during a break in packing.
I enjoy Chardonnay, though I'll admit that it tends to be more of a food wine to me than something I just casually sip on (like Sauvignon Blanc). That being said, I enjoyed the 2012 McIntyre Chardonnay in part because of the balance between acidity and creaminess made it versatile enough to sip on by itself or pair with some food, though I'd say keep it light on the food – chicken or seafood in a cream sauce.
Editor's Note: I received this wine as a free sample for review.