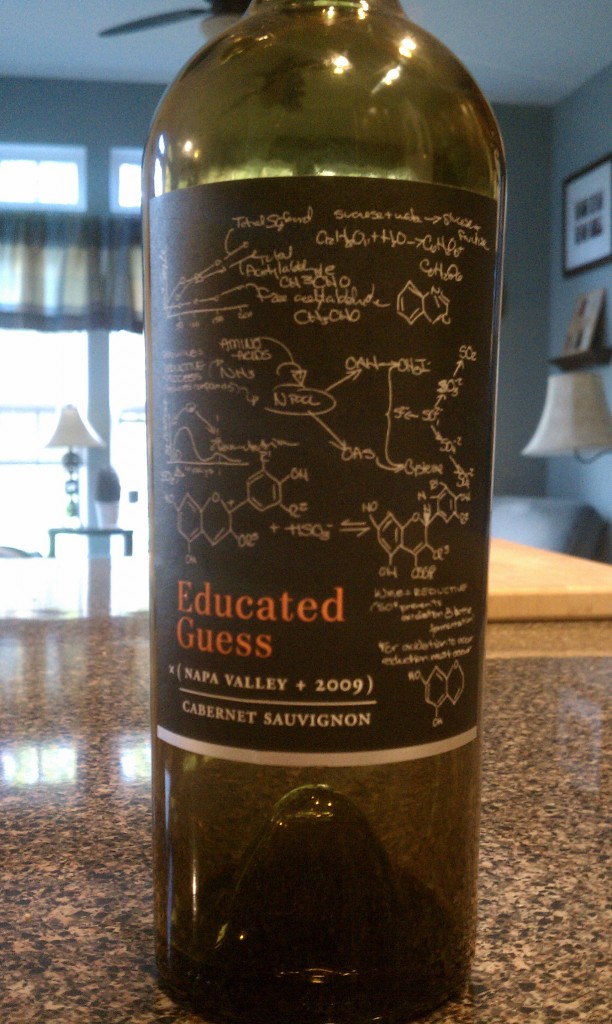 Varietal: 89% Cabernet Sauvignon; 6% Merlot; 4% Cabernet Franc; 1% Petit Verdot
Region: Napa Valley – California – USA
Cost: $20
Winemaker's Notes: Rich, ripe, and focused with juicy blackberry and cherry fruit, cocoa and hints of mint all tied together with a creamy French vanilla middle and finish that in a word is…lingering.
My Review: So, full disclosure, I absolutely grabbed this bottle because the label design was interesting. As we all know, we eat with our eyes first, which is problematic when selecting a bottle of wine since we can't use our nose, and in a bottle, reds in particular all sorta look alike. So, from time to time, I will narrow my selection down to two or three bottles and then pick the one with the most interesting label. Last Saturday was just such an occasion.
Since I was having a steak I knew I wanted either a Malbec or a Cabernet Sauvignon, and since the 2009 Educated Guess Cabernet Sauvignon had a more interesting label it won out. In the glass the wine was dark, with hints of purple streaking throughout the red, giving it an almost inky quality that I find appealing in wines. On the nose I got a myriad of generic dark fruits – I couldn't actually pick out one distinct note, but just got a general sense of dark fruits.
In the mouth the wine was jammy and juicy, and while I wasn't surprised to learn that the wine wasn't 100% Cabernet Sauvignon, part of me was almost expecting a little Zinfandel in there, though the combination of Merlot, Cabernet Franc, and Petit Verdot certainly aren't anything to complain about. While I didn't get the mint, I did get the blackberry, cherry, and cocoa on the front with a hint of the vanilla on what was a nice smooth finish – no hard tannic bite on this wine.
Paired with a steak off the grill it was great – the juiciness of the wine mixed perfectly with the juiciness of the steak to make my mouth feel awash in juicy goodness. Even without a meal, as I actually drank this wine over two days (a rarity for me I know), the smooth finish and good fruit flavors made it very easy to sip on while preparing another meal that I had no intention of pairing the wine with.
For $20 this wine is a great value, and the fact that they put some effort into designing their label (a design which carries over to their corks) is appreciated by myself, and especially by my wife, as she is a scientist and found the label to be great. The Cabernet Sauvignon made me want to try some of the other wines from the Educated Guess line and if you wan to try some as well, you can follow this link to have some shipped to you.