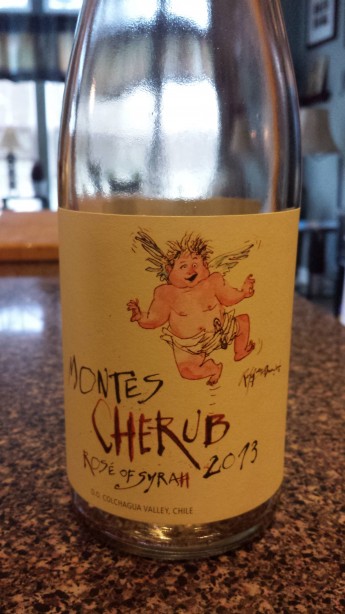 Varietal:  100% Syrah
Region:  Colchagua Valley, Chile
Cost:  $15 (SRP)
Winemaker's Notes:  A seductive, fresh, and well balanced, elegant dry-style Rose' wine of bright vivid pink/red color.
Both on the nose and palate it has a distinct Syrah character, with plenty of body, juicy ripe fruit, and with hints of spice and fresh, bright acidity.
The wine is nicely textured and full-bodied with good fruit concentration, crisp and lively fruit, showing richness across the palate that leads to a delightfully long finish.
A delightful wine to enjoy by itself, with appetizers, or to complement light-flavored foods.
My Review:  I've made no secret of my enjoyment of Chilean wines in the past, not of my enjoyment of Rose', but I have to admit that this is the first time that I've had a Rose' from Chile. It's not that I didn't think they made them, but I admittedly had never seen one on store shelves nor been sent one through any of the numerous Chile-centric tastings that I've been fortunate enough to enjoy.
Before getting too far into the wine, I want to talk about the label. I've talked in the past about using intersting labels and/or bottle designs as a way to get people to pick up your bottle of wine, and then keeping them interesting by actually having some good juice in the bottle. When I first opened up the box with this bottle (and another to be talked about later), the first thing I thought of was Flying Dog Beer.
The labels are fun, slightly manic, and even a little rock and roll. I love them. These are the kinds of bottles that start conversations  when you pull them out, and, as the case was with this wine, keep it going by how good what's behind the label is. I know this approach isn't for everybody, but as more vineyards and wineries try to appeal to a younger generation of wine drinkers, this might be something to keep in mind.
Ok…now to the wine.
The first thing that needs to be mentioned about the actual wine is the color. While many a rose' has shown one color in the bottle when grouped all together only to change a bit in the glass, the 2012 Montes Cherub was an impressive dark pinkish red both in the bottle and the glass. Seriously, check out that color.
My wife and I couldn't stop commenting on the color the entire time we were sipping on the wine. On the nose I picked up notes of bright fruit that carried through to the palate. In the mouth this wine has some body to it. Make no mistake, it's still crisp and refreshing, but there's some body to it that makes it versatile, and something I would drink regularly even in February, when I typically shy away from Rose' and even most whites in favor of bigger, bolder reds to combat the cold weather outside.
Paired with a dinner of pad thai with chicken, the 2012 Montes Cherub was great, balancing out the heat of the meal while providing complimentary notes all around.
I seriously liked this wine, and at $15 consider it to be a great value. Already a fan of Chilean wine, this just gave me something else to search for and add to my list of wines to enjoy. I've liked what I've had from Montes in the past, and I'm glad to see they're continuing to make good wines. Check this one out, and don't worry about waiting until it's warmer outside.
Editor's Note: I received this wine as a free sample for review.