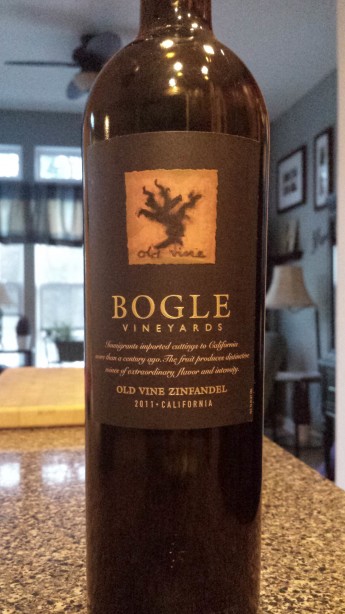 Varietal:  Zinfandel
Region:  Lodi & Amador County, CA – USA
Cost:  $11 (SRP)
Winemaker's Notes:  Spicy and bold, this wine smells of fresh, ripe fruit and Malabar pepper, with the first impressions enticing you to take a sip. On the palate, flavors of homemade raspberry jam simmering on the stove abound. Surrounded by vanilla bean, juniper, and toasty oak tones, this wine is well balanced through and through. Full at entry, mouth filling in the mid palate, and finishing round and ripe, this wine resonates well beyond the last sip. This is a versatile wine to pair with everything from rich and unique dishes, to your favorite barbecue or weeknight out!
My Review:  There was a time when I shied away from Zinfandel as there seemed to be a race to see who could make a wine with the highest alcohol content that people would still be willing to drink, and that's never been a flavor that's appealed to me. Fortunately, either because of shifting trends, or maybe even better winemaking, the Zinfandels that I've tried have shown less of that "hot" flavor of having too much alcohol, even if they do in fact have a higher alcohol content.
The 2011 Old Vine Zinfandel from Bogle Vineyards did a good job of surprising me, both with it's overall flavors, and by managing to avoid the "hot" label that I dislike. In the glass the wine was a nice dark red, somewhere between ruby and garnet. On the nose I picked up light notes of ripe fruit.
In the mouth the wine was surprisingly, and enjoyably, light, with bright notes of raspberry giving way to a soft oak finish. Paired with our dinner of a meatball soup that we'd made before from Blue Apron (and modified to make it infinitely better), the wine was a nice pairing, the bright notes of the raspberry offering a nice counter to the richness of a soup that had beef stock, meatballs, and kale.
Even without food the wine was great to sip on, something that Zinfandel has been hit or miss for me in the past. This is definitely a nice and versatile wine, and one that I'd consider taking to a dinner party where you weren't really sure what was going to be served, so you wanted to cover your bases. Coupled with the great price point, this is definitely a wine I see myself buying again in the future, and would definitely recommend it to a friend.
Editor's Notes: I received this wine as a free sample for review.