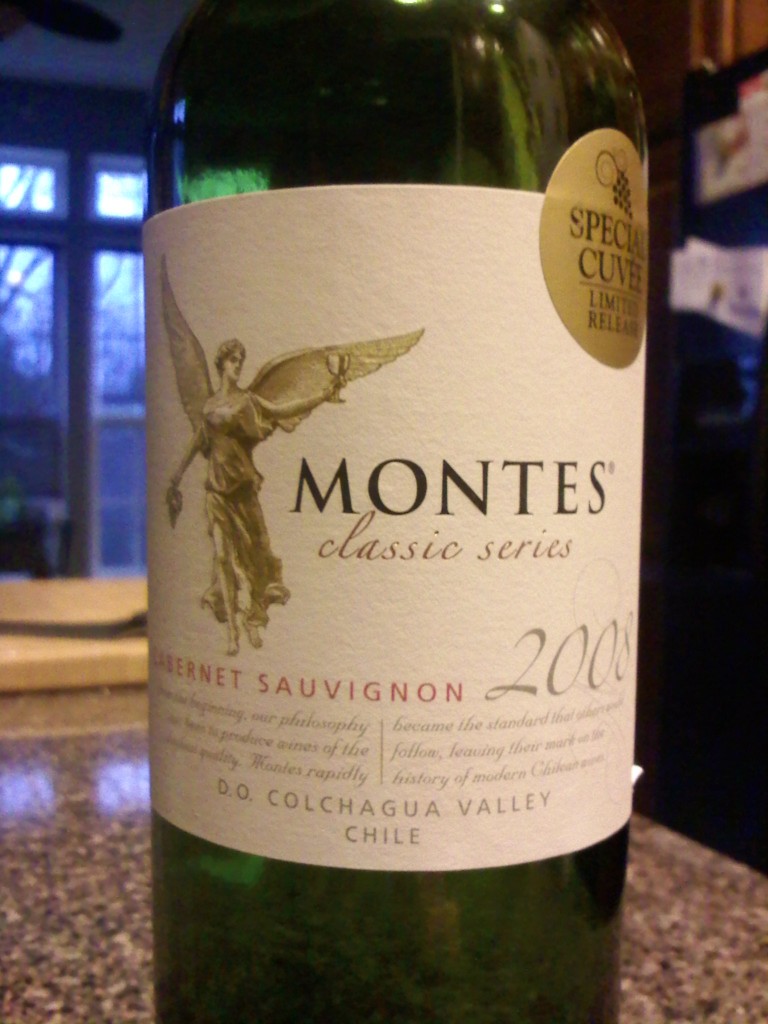 Varietal: Cabernet Sauvignon
Region: Chile
Cost: $10
Garnet color with flavors of cherry and bold tannins. Â Pair this wine with red meat or a boldly flavored meal.
Recommendations: For a dinner alone, I swung by my local Fresh Market (which if you have one you should visit often)Â and picked up a steak and this bottle of wine, partially for the price, and partly because the card with the wine recommended it for steaks.
I opened up the wine while my steak cooked on the grill and let it breathe a bit, finally pouring some as my steak came off the grill. Â Paired with the steak, the wine was excellent. Â Bold tannins and some flavors of red fruit came through, and the high alcohol content (14%) was balanced well by the juiciness of the steak.
Unfortunately, my steak was soon gone and the rest of the wine was not. Â Being a good husband, and because she threatened me, I left the second half of the bottle until my wife came home. Â Once she arrived we poured out the rest of the wine and settled in to watch some TV.
Without the steak to help cut the alcohol and tannins, the wine was a bit overwhelming – especially the alcohol. Â As anybody that's visited this site knows, my true test of a wine is after the food is gone – sadly the 2008 Montes Cabernet Sauvignon doesn't pass the test.
While I'm hard pressed to say don't buy this considering the price point, I will say that if you're going to buy it, be sure you're pairing it with food that will help to counter the alcohol content, otherwise it's just too much and is a waste of the wine.