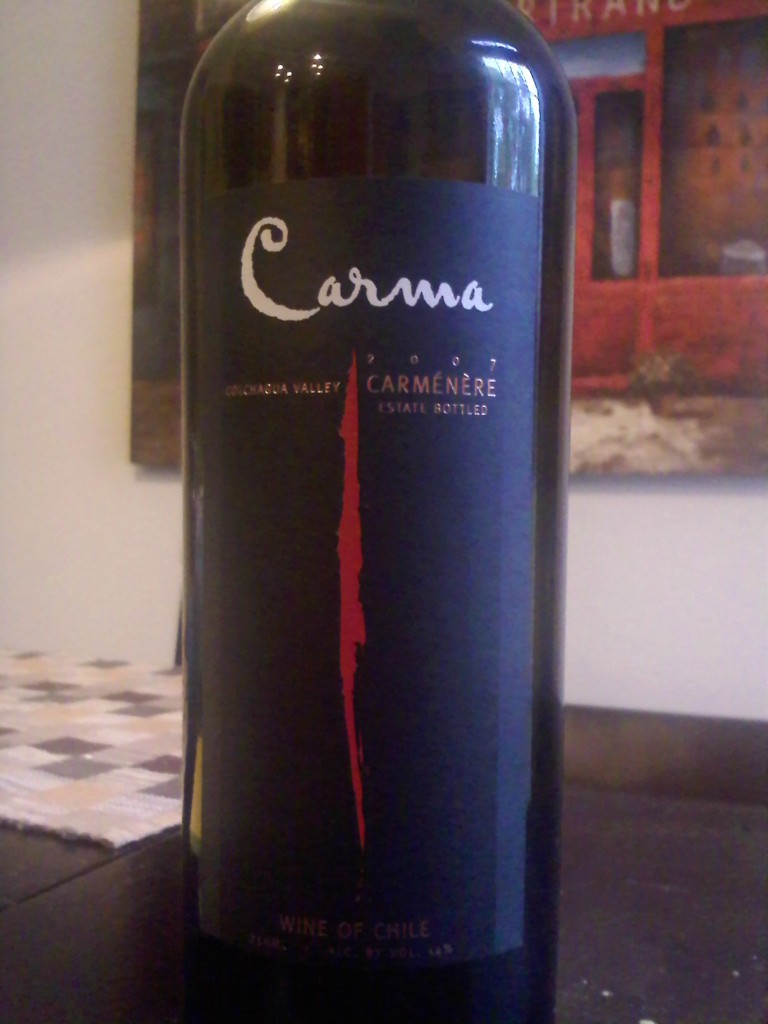 Varietal: Carmenere
Region: Chile
Cost: $19.50
Deep purple in color with aromas of fresh raspberries, mulberries, cherry, herb, and roasted coffee beans. Â Fruit, spice, and dark chocolate on the palate. Â Pairs well with steak, chicken, veal, duck, lamb, lighter food, or by itself.
Recommendations: I'll be the first to admit that I've been on a bit of Carmenere kick ever since I participated in a blogger tasting for Wines of Chile back in November that featured a lot of Carmenere, so I was rather happy when the International Wine of the Month Club sent me a bottle of Carmenere that I had yet to try. Â It's all about expanding horizons.
I picked up some notes of raspberry and cherry on the nose, and I certainly got some spice in the mouth, but I was surprised by how much more mellow this wine was than what I was expecting. Â Carmenere I've had in the past had a distinct bell pepper finish that I found quite enjoyable, and while it started to come through a bit more towards the end of the bottle, after it'd had even more time to open up than I initially gave it, this Carmenere doesn't feature that in your face flavor that I was expecting.
Now, just because the wine wasn't what I was expecting, doesn't mean it wasn't good – the more subtle, medium-bodied flavors made this wine ideal for just sipping by itself without the need to pair it with something as I've felt compelled with other Carmenere.
If you're new to Carmenere, or you're not a big fan of the bell pepper flavor, this is probably the Carmenere for you. Â It's great by itself, and the subtle flavors will allow it to pair with a range of foods. Â Definitely a good value buy and one I would certainly recommend for any fan of Chilean wines.