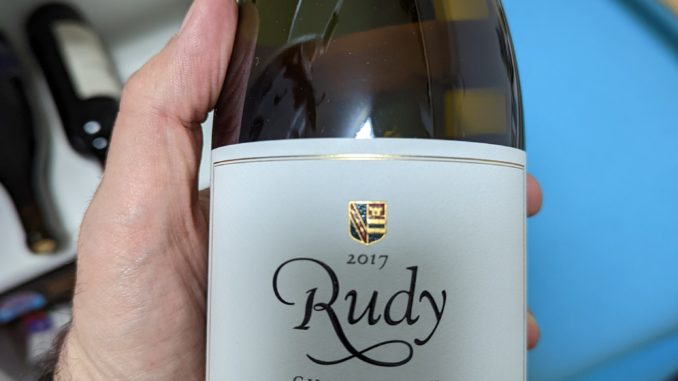 Variety: Chardonnay
Region: Sonoma County, CA
Cost: $24
Winemaker's Notes: A refreshing take on classic California Chardonnay. Coming exclusively from the Bella Vista Vineyard, this Chardonnay offers is a beautiful expression of what Knights Valley Chardonnay has to offer. Bright green apple with notes of Iris and Lavender on the nose. White peach and honey give way to balanced acidity and a crisp, dry finish.
My Review: My battles with Chardonnay are well documented by this point–my wife is very picky about her Chardonnay because of a severe distaste for Chardonnay that's even been in the same room as an oak barrel (let alone spent some time in one). So, during Last Bottle Wine's most recent marathon sale, I grabbed a pair of bottles of the 2017 Rudy Chardonnay Knights Valley since the notes said that it was aged in stainless steel.
How did this work out for me? Not as well as I had hoped with regards to my wife, but certainly not bad.
In the glass the wine was a straw yellow with hints of green. While not a true golden color, I had my suspicions that this wine was going to have more body than my wife would be happy with (she really likes crisp whites). On the nose I got aromas of apple and gooseberry, crisp with just a hint of roundness and honey.
On the palate the wine showed some body. I didn't find it terribly oaky, though my wife did admit it had more body and roundness than she liked. Chalky flavors of stone and mineral mixed with flavors of stone fruit and apple to give the wine a balanced flavor that I found very enjoyable.
We didn't pair the wine with anything, just sipping on it while watching Brooklyn Nine-Nine (which, if you haven't watched, I highly recommend), but I think pairing it with roasted chicken or an herb rub pork loin would be a good pairing.