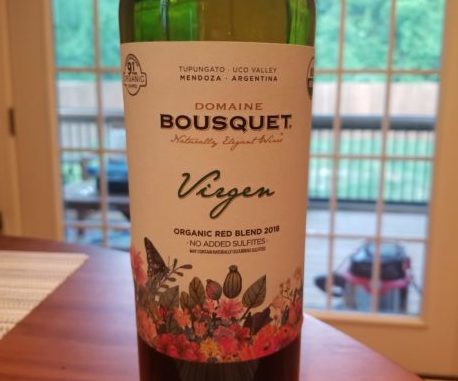 Variety:Â 35% Malbec; 35% Cabernet Sauvignon; 30% Cabernet Franc
Region: Mendoza, Argentina
Cost: $13 (SRP)
Winemaker's Notes: Violet colour. Intense red and black fruit with floral aromas. Elegant and balanced with a pleasant finish. Pair with pasta with red sauces and red meat dishes.
My Review: I've been seeing a lot of organic wines lately – I'm ok with this trend, but it's interesting to see the sudden move towards it. Alright, I'm not here to debate the merits or perils of organic winemaking (I'll save that for a longer form article at some point), but to talk about this wine in particular.
In the glass the wine showed a dark red colour for me, and on the nose I picked up aromas of fresh fruits, most notably strawberry, and a hint of spice on the finish. In the mouth the wine was fruit forward, with notes of anise/liquorice on the finish.
Smooth in the mouth, the finish lingered a bit, but never overstayed its welcome.
Overall I found the wine enjoyable, opening it on a weekend to sip on by itself with my wife. It wasn't mind-blowing or revolutionary; I won't stay up thinking about it, but neither was I mad that I opened it, which is roughly what I'd want out of a wine that I paid $13 for, so at least there's that.
Editor's Note: I received this wine as a free sample for review.