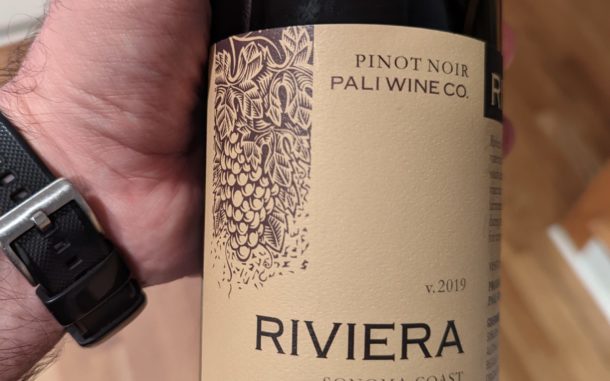 Variety: 100% Pinot Noir
Region: Sonoma Coast, CA – USA
Cost: $25 (SRP)
Winemaker's Notes: Intense and bursting berry, acai, and black cherry meet wet earth and savory mushroom. A background of sour cherry acidity keeps this wine tight.
My Review: I'm lucky to have several good wine shops within 15 minutes of my home. One of these, The Wine Feed, does regular Wednesday wine tastings. During a recent stop in, my wife and I went through their tasting, ending up buying everything they had on the list. The one that stuck out, and that we sipped on a glass of while there, was the 2019 Pali Wine Co "Riviera" Pinot Noir–it was clearly popular that night because we ended up having to actually order a bottle of it to pick up later that week (kudos to The Wine Feed for offering that option).
My wife and I finally opened up the wine while cooking on a Friday night to pair with some gnudi in a cherry tomato sauce we had made. In the glass the wine was darker than I usually associate with Pinot Noir–not as inky as some Cabernet or Petit Verdot, but not nearly as translucent as I was expecting.
On the nose I got aromas of earth, dark cherries, mushrooms, and a bit of meatiness that I really liked. In the mouth, the wine was showed tight notes of cherry and again the meatiness came through on the back palate in a way that I really liked, especially as a contrast to the tart cherry tomato sauce we had made for the gnudi.
My wife and I are already looking at ordering more of this wine, and I while it went well with the dish we prepared, I think a mushroom ravioli or some short ribs in a mushroom and red wine sauce would be great–anything to really highlight the earthiness of the wine is going to be welcome.
For $25 it's a great value and while I know that serving Pinot Noir with Thanksgiving dinner is cliched, it's also one I'm considering of making sure I have a few bottles of on hand, especially considering I plan to do a double whiskey smoked turkey for the holiday (we brine it with some whiskey, inject it with a butter and whiskey mix, and then even use Jack Daniels barrel chips for the smoke).