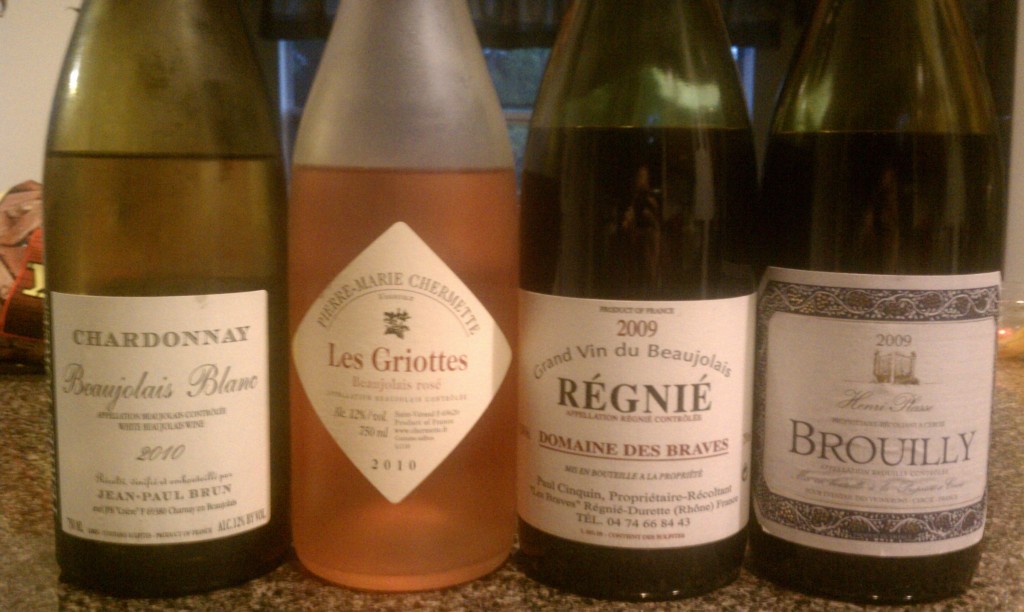 Last Thursday I participated in a tasting of four Beaujolais wines all of which were geared towards the summer months and BBQ. Given my general lack of experience with French wines (something that I'm trying to remedy), I quickly jumped at the opportunity to participate in this tasting. After grilling up some sausages to share with my wife as we did the tasting, we got down to the important part of the evening – tasting the wine.
2010 Domaine des Terres Dorees
If there was one word to describe this wine it would be "balanced". A 100% Chardonnay, I got tropical notes from the nose to the palate, with a hint of acid in the mouth that I found made it nice and clean on the finish. With a SRP of $16, this is a nice all-around wine that doesn't do any one thing particularly well, but doesn't really let you down anywhere either.
2010 Domaine du Vissoux, Les Griottes Beaujolais
A rose' made from 100% Gamay grapes, this wine is a great deck wine. It was arguably the best pairing with the sausages that my wife and I grilled up, with a good balance of dry, crisp flavors of strawberry that made the wine refreshing. A good value at $17.
2009 Domaines des Braves Regnie
This was the favorite of the night for both my wife and I. A light red made with 100% Gamay grapes I got raspberry and hints of licorice and anise on the finish. With no real oak flavor this is an ideal summer red as it's perfect for pairing with grilled food and is a great value at $15.
2009 Henri Plasse Brouilly
The final wine of the night, and the third 100% Gamay, this was a heavier wine than the previous (which of course makes sense given how the tasting progressed from lightest to fullest) with berry flavors of blueberry and blackberry that was kinda juicy with some oak on the finish that really made me want to throw the BBQ ribs in my fridge on the grill. With a SRP of $17 it wasn't a bad way to finish off the night of tasting.
I want to thank Discover Beaujolais for hosting the tasting and for sending me the wines for it. I look forward to future tastings because anything I can do to expand my knowledge of French wine is always welcomed. If you're on Twitter and want to follow future tastings, don't forget to follow the hashtag #beaujolais.