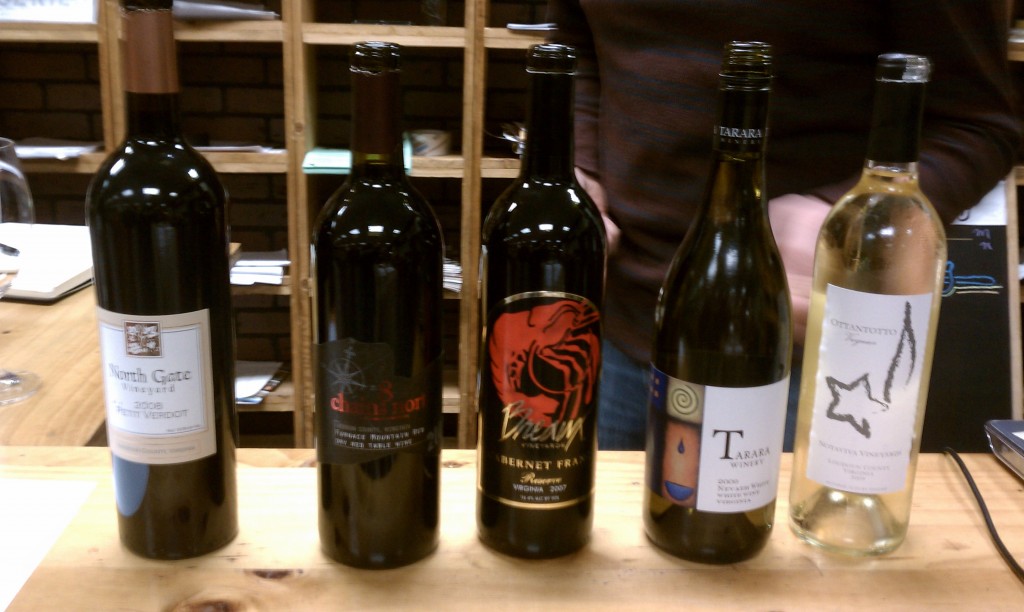 Last night I had the opportunity to participate in a Twitter tasting of several bottles of Virginia wine, which I was rather excited about, given as how I live in Virginia and am always looking to both sample new wines from my home state and to help promote wines from my home state to those that don't happen to live here. Â A selection of five bottles was chosen, 2 whites and 3 reds, and myself and several other tasters in person and many more online all worked our way through, sharing our thoughts. Â Here are mine.
2009 Tarara Nevaeh White
Just in case you were wondering "nevaeh" is heaven backwards. Â Yeah, that's what I thought too. Â A blend of 70% Viognier and 30% Chardonnay, with all the Viognier on the nose and nothing but Chardonnay in the mouth. Â Crisp flavors of honeysuckle and pineapple with a slight oaky creaminess on the finish. Â It's not a bad wine, and would go well with grilled chicken, but I have hard time recommending it at the $30 price point. Â It's not enough of a game changer for the price point.
2009 Notaviva Ottantotto Viognier
Very light in color and with a very subtle nose that came out the more I let the wine open up, but was never very bold. Â Light and crisp with nice acid and a hint of sweetness on the finish that was anything from bubble gum and cotton candy to banana flavored Now n Laters. Â The consensus of the people I was tasting in person was that it wasn't very "viognier-y". Â Of the two whites, I liked the Tarara better, but would could justify the $20 for the Notaviva more.
2008 8 Chains North Dry Red Wine
A deep purple/red color. Â The wine is a blend of 33% Malbec; 30% Cabernet Sauvignon; 30% Petit Verdot; 5% Cabernet Franc; 2% Merlot. Â Later in the evening, when I was finishing this bottle, the cabernet franc really started to come out (not a bad thing), but at the tasting flavors and aromas of smoke, berry, tobacco, and a jamminess made it a great wine to want to pair with a steak. Â For $22 this is a great value and one I certainly plan to pick up again.
2007 Breaux Vineyards Cabernet Franc
I would love to use this wine in a blind tasting to screw with people. Â It doesn't taste like a cabernet franc at all, and certainly not one from Virginia. Â A deep dark red with jammy notes of berry, smoke, and pepper with dark chocolate on the finish. Â Even with 16.4% alc/volume there was not aroma or flavor of alcohol, which I was incredibly impressed with. Â Even at $32, this wine is a great wine and one I just wanted to pair with a steak and a cigar.
2008 North Gate Petit Verdot
I felt bad for the North Gate because we tasted it after the Breaux. Â That's not to say it wasn't good, with a dark purple color and jamminess on both the nose and palate. Â But the bright flavors and subtle tannins of this Petit Verdot should have come before the bold, dark flavors of the Cabernet Franc. Â That being said, this is another great value wine at $24.
I want to thank John Witherspoon of The Wine Cellar for hosting us for the tasting, and thank the hosts of the wine tasting for organizing the event and putting together a great selection of Virginia Wine. Â I really did enjoy them all, and while the reds were our clear favorites last night, there's not a single bottle that I would be ashamed to have in my wine cellar.