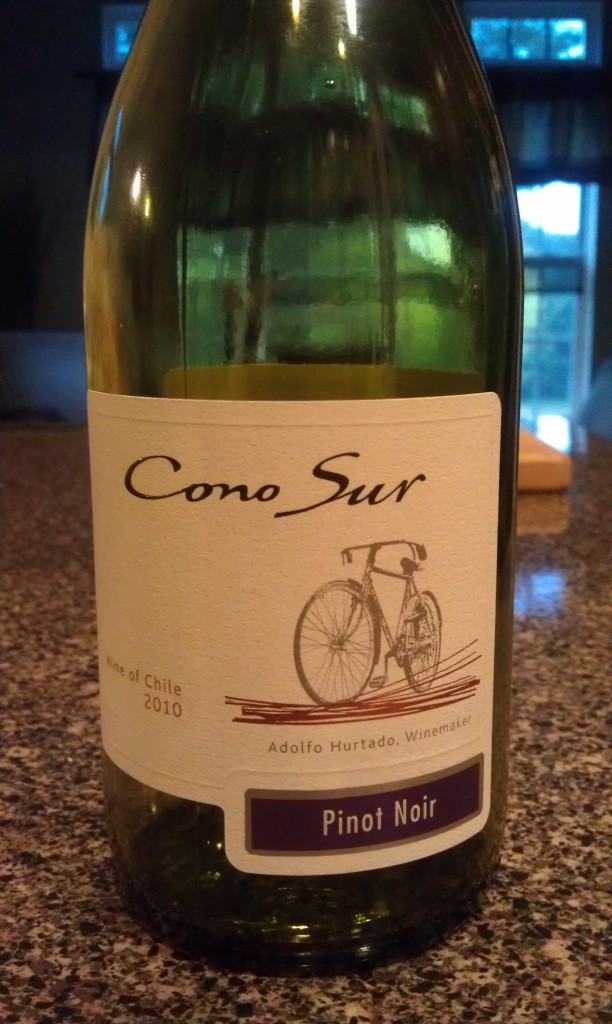 Varietal:Â  100% Pinot Noir
Region:Â  Chile – South America
Cost:Â  $7
Winemaker's Notes:Â  This voluptuous Pinot Noir is full of rich aromas and flavours of cherry, plum, and strawberry, finished with a subtle spiciness. Balanced and New World styled, this is an elegant wine; the perfect partner for robust fish dishes, white meats, and pork.
My Review: Â As a slight preview to this Thursday's Wines of Chile Virtual Blogger Tasting, I decided to open up a bottle of Cono Sur Pinot Noir that I had picked up at Costco during a recent grocery trip. I've had Cono Sur wines during several blogger tastings and they tend to always make my list of the top wines for the tasting, and for the value I just couldn't pass up trying this particular bottle.
The wine was a bit darker in the glass than I was expecting, though certainly not so dark as to make me question it's Pinot Noir-ness. On the nose I got cherry and strawberry mostly, with the plum not really coming through until the palate, and even then it was very subtle, mostly hidden by the cherry and strawberry notes.
My wife and I paired the wine with a pizza and I have to say that the wine was enjoyable. I'd be lying if I said this was the best Pinot Noir I've ever had, hell, it wasn't even the best Pinot I've had from Chile, but it was a great value, and it wasn't bad by any stretch of the imagination, and I suspect that I'll be grabbing another bottle of this the next time I come across it, as it's better than most of the value Pinot Noirs I've come across in recent years.
If you can't find this wine at your local store (I've seen it at multiple locations so I think they're doing a good job of placing it on shelves), then you can follow this link and have some shipped directly to you. It's a great value and probably an upgrade on most table wines.