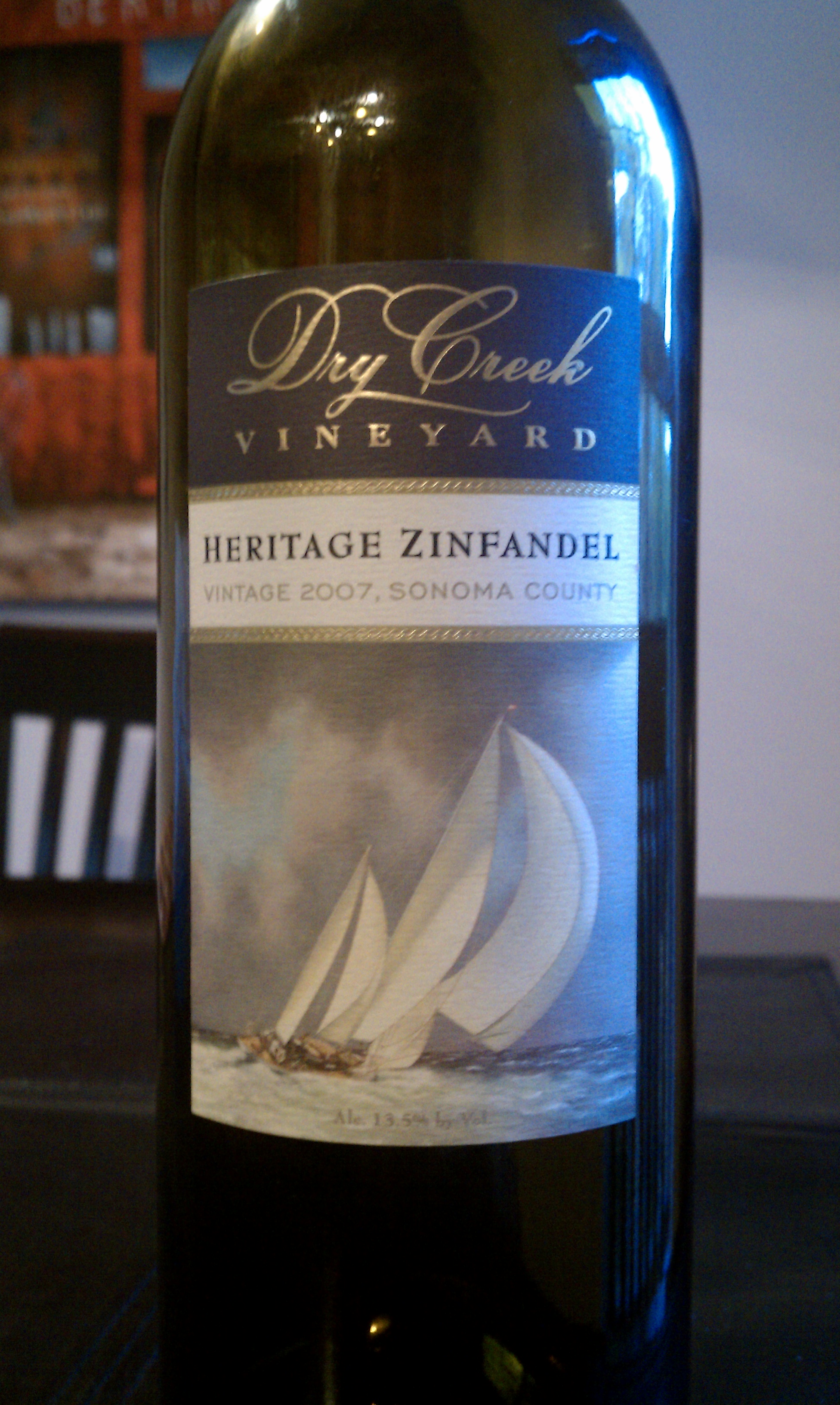 Varietal: Zinfandel
Region: California – Sonoma – USA
Cost: $20.50
Aromas of blueberry, bramble, chocolate, and white pepper. Â Crushed berries, mint, and tobacco on the palate with oak tones. Â Pairs well with grilled pork chops, braised ribs, Italian sausage, calzones, lasagna, manicotti, pizza, burgers, steaks, BBQ, fried chicken, meatloaf.
Recommendations: I'll be the first to admit that I've been a bit wary of Zinfandel of late. Â It's not that I don't like the grape, I'm a fan of it, especially this time of year, but I've seen a trend in really high alcohol content on it as of late, and of that I am not a fan. Â Fortunately, the bottle of Dry Creek Vineyard Heritage Zinfandel that was sent to me by the International Wine of the Month Club had a much more modest alcohol content.
Sporting 13.5% by volume, the aromas of blueberry and white pepper were able to come through on the nose, not being overwhelmed by the alcohol. Â In the mouth I got tobacco and crushed berry, but none of the mint that was mentioned in the tasting notes (which is perfectly fine with me as I'm not a big fan of mint to be honest). Â Paired with a quick dinner of pizza, this was a perfect pairing and one I would gladly do again.
What I found most enjoyable about this wine was the fact that I could easily imagine pairing this with just about anything that I'll be eating this summer – pizza, burgers, steaks, sausages, or pasta. Â The versatility of this wine makes it a great value and I definitely recommend grabbing a bottle if you're looking for something to pair with your summer grilling.