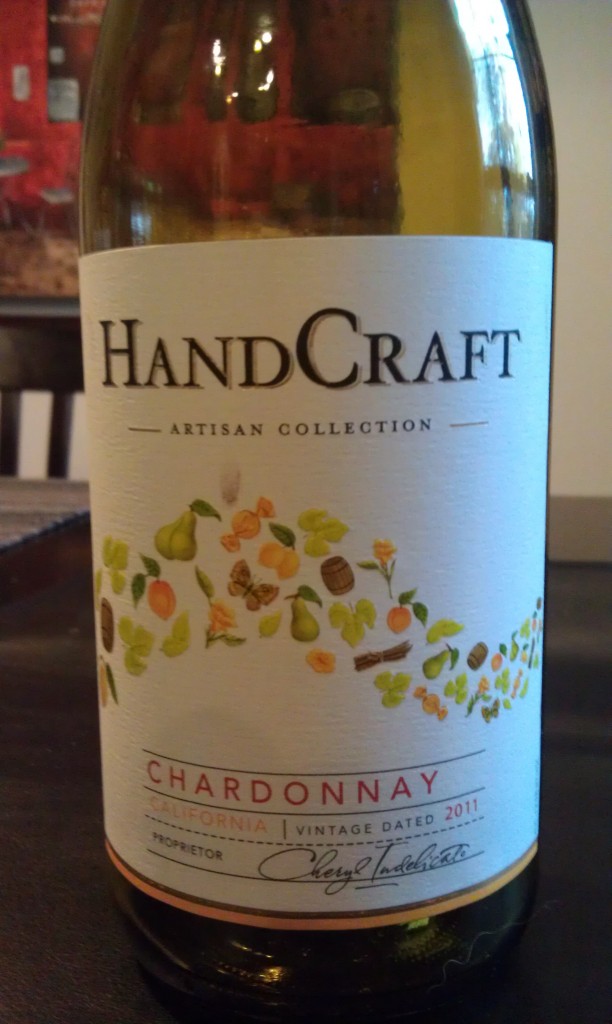 Varietal: Â Chardonnay with aromatics and a dash of Malvasia Bianca
Region: Â California
Cost: Â $12 (SRP)
Winemaker's Notes: Â Pour a glass and enjoy the lovely floral and honey aromatics with soft hints of lemon zest, green apple, and toasty oak. Then savor a sip as you taste bright citrus, peach, honey, pear, and creamy marshmallow flavors. This medium bodied wine is balanced with good acidity – making it refreshing by itself or perfect with food.
My Review: Â As I'm sure you know by now, Chardonnay is a hit or miss prospect in Casa de Good Wine Guru due to my wife's distaste for heavily oaked Chardonnay. What that tends to mean is when opening a Chardonnay that has seen time in oak, I'm required to pour her a small taste to see if it will meet with her standards. As it so happened. the 2011 Handcraft Chardonnay did just that.
After a long weekend in Northern Virginia with family for the Christmas holiday, my wife and I were finally getting back to a sense of normalcy, which means we cooked dinner and opened a bottle of wine. Since we were making a meal of chicken that was breaded and seasoned, I decided to give the bottle of 2011 Handcraft Chardonnay that had been sitting in the fridge a try – after letting my wife take her customary sip to ensure it wasn't too oaky.
On the nose I picked up floral aromas and notes of oak and apple. In the mouth the wine was light and fairly crisp, with the oak not playing too much of a factor, in part thanks to only 75% of the wine having spent time in oak (4-6 months, 90% French, 10% American). Flavors of citrus and pear were most prevalent in my mouth, and it paired well with the chicken and side we had prepared.
Was this wine revolutionary, transcendent, or even really good? No. Was it middling and good for a Tuesday night dinner of chicken after a long day at work? Sure. While I tend to aim for wines that drink better than they cost, I'm also wary of wines that drink worse than they cost. The 2011 Handcraft Chardonnay manages to do neither – it drinks roughly like a $12 Chardonnay – nothing spectacular, not particularly memorable, but good enough for a simple dinner.
Editor's Note: I received this wine as a free sample.