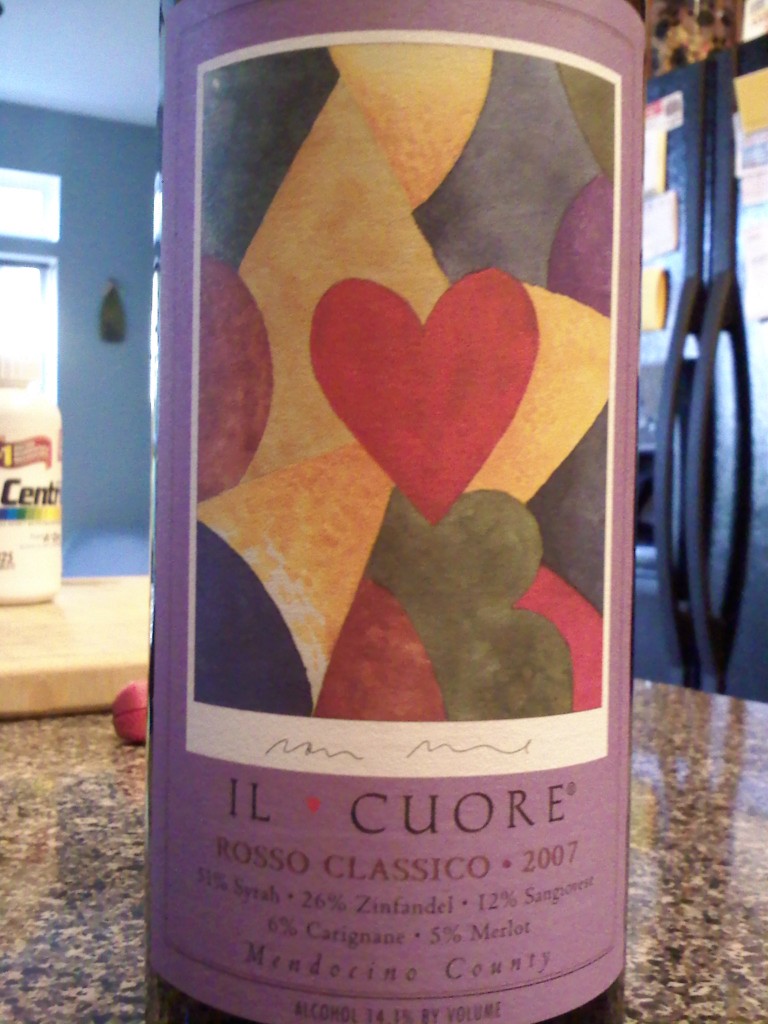 Varietal: Blended Red Wine (51% Syrah; 26% Zinfandel; 12% Sangiovese; 6% Carignane; 5% Merlot
Region: California – USA
Cost: $20
Dark purple coloring that is essentially opaque.  A medium-bodied wine with aromas of ripe cherries, berries, and plums.
Recommendations: When I first poured out some of this wine, I liked the deep purple color of it.  I did catch the aromas of some of the ripe fruit, but there was a aroma of alcohol that I'm starting to associate with California Syrah.
The wine itself was fairly smooth, about what I was expecting given the varietals present in the blend, but there was a bit of alcohol on the finish that nearly overwhelmed the subtle fruit flavors and soft tannins.
Having had this problem with a previous blended red involving California Syrah, my wife and I paired this wine with a meal of pasta with a red meat sauce.  This definitely helped.  The sauciness of the pasta helped to cut some of the alcohol finish on the wine, making it much more enjoyable.
If you don't like to taste alcohol on your wine, you might want to pass on this, but if you do get this wine, I would highly recommend pairing it with a saucy pasta dish to cut the alcohol flavors.
Special thanks to the International Wine of the Month Club for providing the wine.