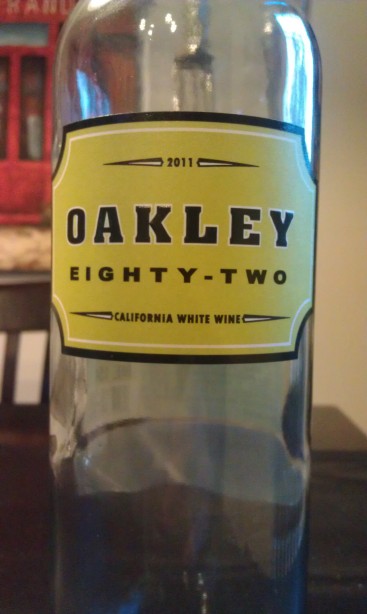 Varietal: Â 43% Sauvignon Blanc; 37% Palomino; 8% Viognier; 6% Malvasia Bianca; 6% Semillon
Region: Â California – USA
Cost: Â $11 (SRP)
Winemaker's Notes:Â  When selecting grapes for this wine, we were particularly conscious of the intensity of the fruit, the acid balance, and the characteristics each varietal offered to the blend as a whole. The final product delivers bright, crisp flavors of grapefruit, lime and peach with a fresh, clean finish. The bright flavors of Oakley 82 pair well with appetizers such as ripe tomatoes and mozzarella, salads with extra virgin olive oil, and lightly-spiced chicken or fish dishes. This is a great everyday wine that suits a wide variety of cuisines. Adventurous, affordable and delicious. Serve lightly chilled.
My Review: Â A pair of Oakley 82 bottles, a product of Cline Cellars, showed up at my office shortly after the first of the year, and while I immediately knew that they were table wines, I still took longer than I expected to open one of them, in part because I seem to have a lot of table wine around the house at the moment. Regardless, this weekend I finally opened up the 2011 California White Wine to pair with a pork green chili dinner that my wife had prepared, hoping that the crispness, and the .5% residual sugar, would cut through the heat of the meal. I was, unfortunately, disappointed.
The wine was light gold in the glass, and I picked up aromas of citrus, notably lime. On the palate the wine was fairly one note, with grapefruit being the most prominent flavor that I was able to pick out, though there was a floral component that started to show later on. That being said, for being a blend of five different wines, I was hoping to be able to pick out traits of more than just the Sauvignon Blanc and maybe the Viognier.
I was also disappointed that some of the residual sugar wasn't more prominent. Don't get me wrong, I'm not one that favors sweeter wines, but I opened this assuming the RS would at least make its presence known enough to cut through some of the heat of the meal and it most certainly didn't. This wouldn't have been a problem for me were I just sipping the wine out on the deck on a warm day, but when deciding to pair it with something spicy, I wanted it to help with that.
While the price may entice some people to try this wine, I can't say as I would go out of my way to recommend it. As a white table wine it's serviceable, but you can also find better quality white table wine for around the same price, or at least the same quality for less money.