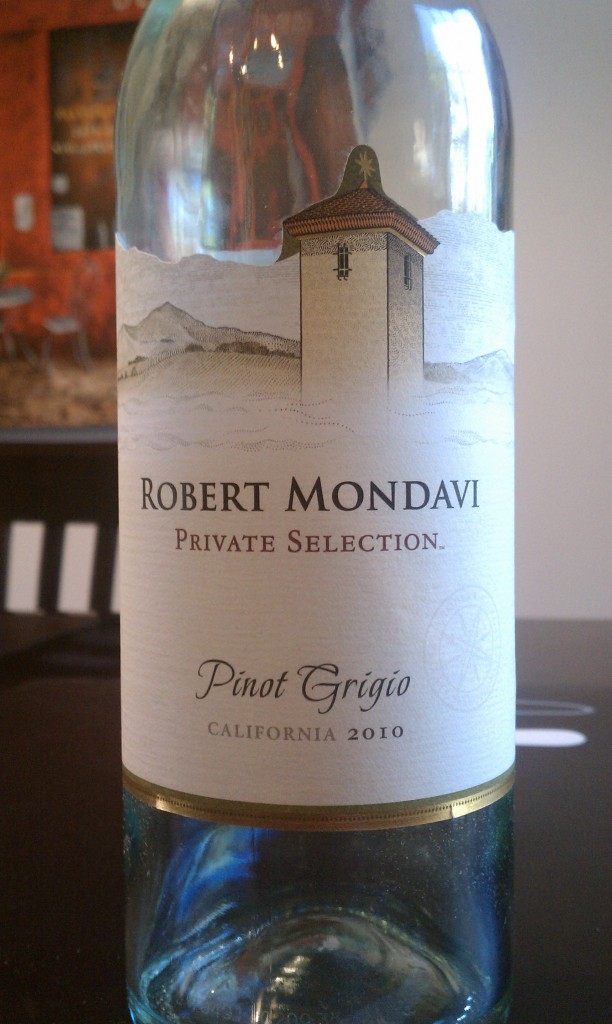 Varietal:Â  82% Pinot Grigio; 8% Pinot Blanc; 5% Sauvignon Blanc; 5% Gewurztraminer
Region:Â  California – USA
Cost:Â  $11 (SRP)
Winemaker's Note:Â  An enticing aroma of fresh ripe pears with appealing peach, vanilla, and spice scents adding complexity. A pretty wine with a round, creamy palate and crisp entry, it has the typical tonic water, pear, and floral grassy notes that culminate into a lush, silk-textured finish inviting pairings with food. Enjoy with crab cakes, California sushi rolls, grilled chicken breasts, pasta primavera, or Caesar salad.
My Review:  Some time ago I drank far more Pinto Grigio than I do now. Part of that had to do with my tastes leaning towards lighter wines than the more full-bodied ones I enjoy now, especially when it came to white wine. Because of that, it's been some time since I've actively gone out and really decided to pick up a bottle of Pinot Grigio – not because I have anything really against it, but more because I tend to gravitate to other white wines first instead. When I received the sample of 2010 Robert Mondavi Private Selection Pinot Grigio I was actually kinda excited as it gave me a chance to try a Pinot Grigio that I probably never would have bought on my own.
I had enjoyed the 2009 Robert Mondavi Private Selection Sauvignon Blanc that arrived at the same time as this Pinot Grigio, so I was looking forward to the wine when my wife and I decided to open it up with some dinner last week, especially since it was a blended Pinot Grigio which I found to be intriguing.
On the nose I got peach and a hint of citrus and in the mouth the wine was light and crisp with a flavor that I had a hard time putting my finger on until I was glancing over the tasting notes again and had the "aha" moment when I saw tonic water listed. I don't drink tonic water drinks so it didn't quite jump out at me.
Paired with a dinner of grilled chicken basted with a honey-mustard mixture and some roasted red potatoes it wasn't bad, but to be perfectly honest, I couldn't stop comparing it to the Sauvignon Blanc I'd had a few days earlier and it just wasn't as enjoyable to me.
While $11 isn't a lot to pay for a wine that's not patently terrible, I feel like that if you're going to pick a light, crisp white wine from Robert Mondavi, for the price, you'd be better off with the Sauvignon Blanc. That being said, if you want to try this wine and it's not available at your local store you can follow this link and have it shipped to your home or office.