So a few weeks ago Wine Country Gift Baskets reached out to me about reviewing one of their gift baskets. I hesitated for a moment before responding, not because I wasn't interested, but because I honestly had no idea how to go about reviewing something like a wine gift basket. In the end I replied that I was like to review one of their baskets, and I'm really glad I did.
Maybe it's just me, but my initial reaction to the thought of wine gift baskets was something akin to how most people react when presented with a Rose' – they see pink wine and instantly think of cheap white zinfandel. I've only been exposed to a few wine gift baskets in the past, and they were, honestly, kinda cheap. Because of this, I was impressed when the Steeplechase gift basket showed up.
I'd had a bit of an idea of what to expect ahead of time thanks to a link sent to me showing which gift basket was being sent my way, but there's something about a semi-stock image on a website that doesn't always do the real thing justice. The packaging was both visually appealing and practical – instead of a true basket, the entire package was cradled in a metal tub with some scroll work on it that, quite frankly, my wife and I plan to reuse.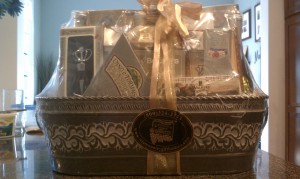 The wine and all the foods were arranged in a way that made them easy to see, but also kept them in place. All in all it was a great packaging and it looked high quality, which I think is half the way to actually being high quality.
My wife and I committed to going through the gift basket together this past weekend, as we always enjoy a lunch of small munchie-type foods and after cleaning out admittedly dirty house, we were going to need some wine. The gift basket contained a wide assortment of spreads, crackers, and even some candies, but there were a few that really stood out and that I feel need some mention.
Of the foods, both the cheese dip and the cheese spread are noteworthy. The cheese spread because instead of your standard processed cheddar spread, it was an Asiago cheese spread which wasn't revolutionary, but I appreciated having something in there that was different than the standard cheddar. The cheese dip, which was powdered and combined with some cream cheese, was just great. So great in fact that we didn't finish the whole thing and it's covered in my fridge to be enjoyed later. I didn't want to throw it away, it was that good.
Of the more dessert type foods, I have two complaints. The walnut shortbread cookies were amazing, like I wanted to bathe in them amazing. Put more in the basket because they are spectacular. The caramel chocolates were kind of a let down. I should qualify that by pointing out that I am not much of a chocolate person, and neither is my wife, but we both tried one and only one. The other caramels, however, were quite tasty.
"But George, what about the wines? You're a wine writer afterall.". Good point. The wine selection is what I figured it would be – a Chardonnay, a Merlot, and a Cabernet Sauvignon. They were, however, better than I was expecting.
The Chardonnay had a little oak to it, but it did this great job of walking a middle ground between being a really full-bodied Chardonnay and being a lighter steel Chardonnay. For a gift basket with a range of foods and as something you'll send to somebody else who's tastes you may not know, that's actually a great thing.
The Merlot surprised me with how good it was. Nice and dark with good fruit and a hint of tobacco made this easily the biggest surprise of the basket for me. Merlot is a grape that I've grown to enjoy again after some bad experiences, but I'm still hesitant around it and this one just reaffirmed my decision to keep trying it.
The Cabernet Sauvignon was, well, a California Cab. Fruit forward with a medium body, it wasn't anything ground-breaking ,but it also was better than your average run-of-the-mill entry level Cabernet.
So, the question really comes down to is this basket worth it. This particular basket retails for $75 (not counting shipping), and honestly, it's totally worth it. My wife and I both were very impressed with the gift basket, and in fact lamented that we hadn't shared it with others, though then I probably wouldn't have gotten as many of those amazing shortbread cookies. I would not in any way be embarrassed to send this to somebody I know, and while I certainly can't speak to all of the baskets, Wine Country Gift Baskets has definitely jumped up to the top of my list of places I'd go to send one.