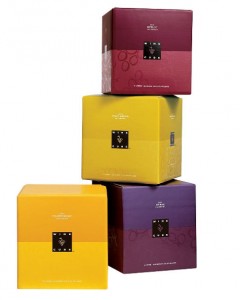 Varietal: Cabernet Sauvignon/Shiraz (50% Cabernet Sauvignon/50% Shiraz)
Region: California – USA/Australia
Cost: $15.99
Fruit forward Cabernet Sauvignon has a hint of pepper from the Shiraz on the finish.  Dark berry flavors present a very mild red wine with low tannins.  Will pair well with sauce heavy pastas or as a contrast to heavily seasoned red meats.
Recommendation: For now I'm going to ignore the pros and cons of boxed wine (that will be another post at date soon to come) and look more at the wine.  The Target Wine Cube Cab/Shiraz blend is very fruit forward, enough so that if I didn't know it was a 50/50 split on the blend I would think it was more Cabernet than Shiraz.  This wine came camping with my wife and some friends, and for enjoying in the great outdoors with some food cooked over an open flame, it was more than adequate.
I'm not going to delude myself into thinking that Target is now the purveyor of some amazing wine, but for anybody looking for a basic table wine, you really can't argue against what they're offering, especially when you consider it's 4 bottles of wine for under $20.  I wouldn't serve this at a dinner party, but it's certainly worth keeping on hand for anybody that just drinks wine by the glass.